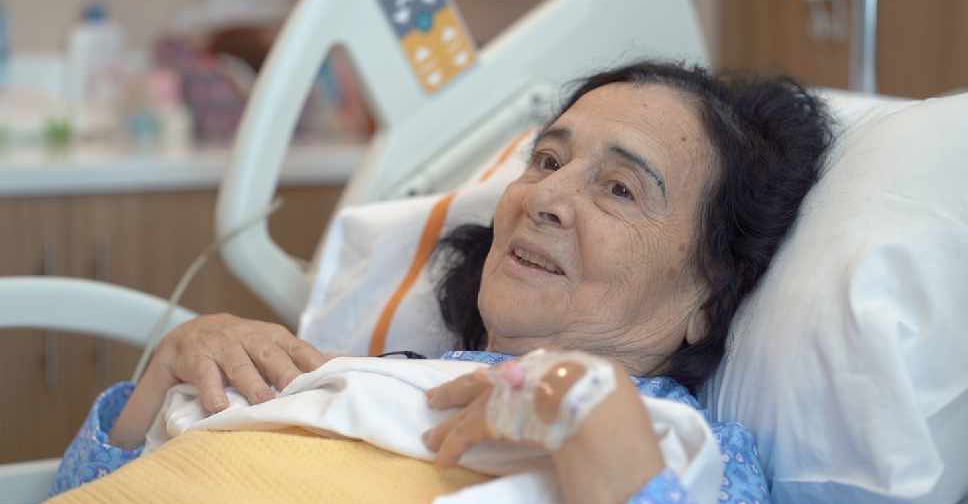 Supplied
An elderly Portuguese tourist who underwent life-saving surgery while on holiday in Dubai has praised the emirate's healthcare system.
Maria Madalena, 80, who has been visiting the city every year with her family for the past two decades, was diagnosed with a cancerous tumour during her latest trip.
She was given a new lease of life by doctors at Rashid Hospital who carried out a minimally-invasive procedure to remove the tumour and discharged her within three days.
"I did feel unwell before I travelled to Dubai but I did not want to cancel our holiday. In fact, I told God that I want to be cured in Dubai. However, I had no idea that I had a cancerous tumour in my body," said Madalena.
"Keeping the age of the patient in mind and her condition, we decided it was best to avoid open surgery and we opted to remove the tumour laparoscopically instead," explained Dr. Omar Al Marzouqi, Consultant General Surgeon at Rashid Hospital.
He added that all cancerous tumour cases are discussed by a multidisciplinary team of highly specialised doctors in the Tumour Board, in line with international standards and hospital guidelines.
Madalena said she had full faith in the emirate's medical facilities, as her husband had an emergency cardiac operation at the same hospital while visiting Dubai three years ago.
Recalling the incident, Madalena's husband, Rider Lobo said: "I was shopping in Mall of the Emirates and I felt pain and discomfort in my chest. I visited a medical facility and I was told to urgently go to the hospital. An ambulance arrived and immediately took me to the hospital. Everything was done promptly with a sense of urgency."
"When I went back to Lisbon, I visited a famous cardiologist there, I was informed that the procedure was done brilliantly and that it probably would not have been possible to get the same level of care in Lisbon itself," he added.
Patient shares why he and his wife chose #Dubai for medical treatment pic.twitter.com/pFRcjuHZzq

— هيئة الصحة بدبي (@DHA_Dubai) September 8, 2020