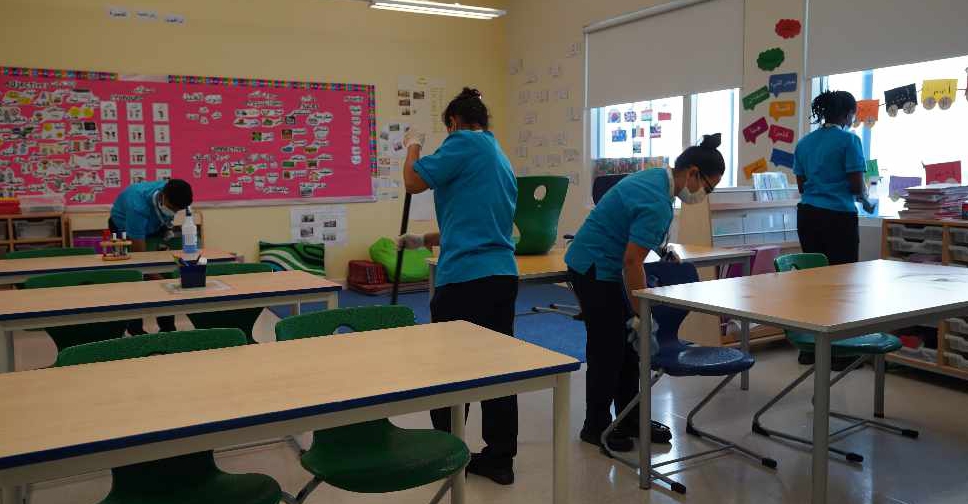 @DXBMediaOffice/ Twitter
More than 200 private schools in Dubai are going through a deep cleaning process to tackle the spread of COVID-19.
According to the municipality, the sterilisation procedure in each institution takes between 6 and 48 hours depending on the size of the facility.
School buses will also be sanitised as part of the programme, which is being carried out based on the WHO's guidelines.
Dr. Naseem Mohammed Rafee, Head of Dubai Municipality's Public Health and Safety Department, said specialised companies are conducting the sterilisation with products that ensure effective disinfection without causing any harm to people's health.
On March 7, the UAE Ministry of Education announced a comprehensive sterilisation plan for schools and universities in collaboration with the Ministry of Health and Prevention. As part of the plan, 620 schools and 6,000 school buses across the UAE have already been sterilised.
As part of the precautionary measures to prevent the spread of coronavirus (Covid-19), #Dubai schools have undergone comprehensive sterilization procedures. pic.twitter.com/3t6efNjnpQ

— Dubai Media Office (@DXBMediaOffice) March 11, 2020
.@DMunicipality oversees implementation of sterilisation programme in private schools. #Dubai https://t.co/SAHLb3a1Xq pic.twitter.com/07jZIjRjf5

— Dubai Media Office (@DXBMediaOffice) March 11, 2020