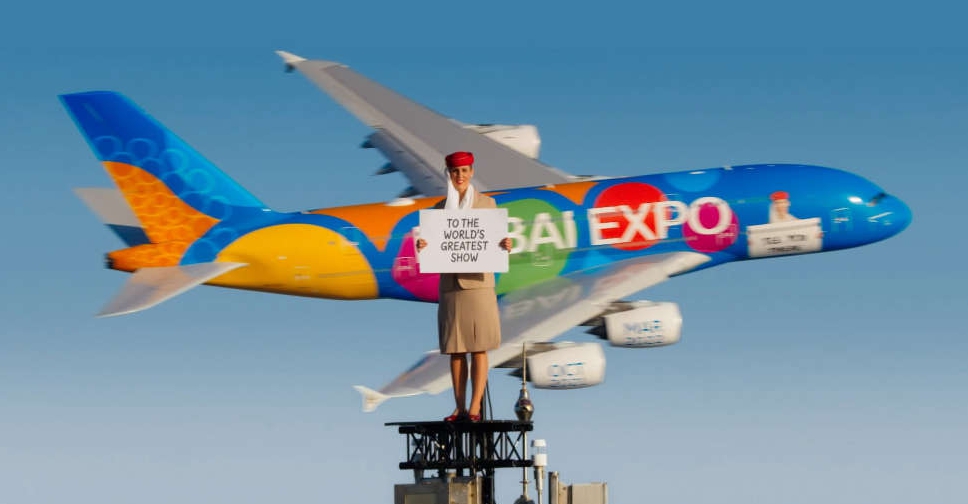 Supplied
Emirates Airline has revealed how it took its A380 for a spin around the world's tallest building to celebrate Expo 2020 Dubai.
Keeping with Dubai's 'nothing is impossible' spirit, Emirates is soaring up and around the Burj Khalifa for another edition of its viral ad campaign, this time taking it one spectacular step further with the addition of the Expo-themed A380.
The Dubai-based carrier hit the global headlines and social media feeds of millions in August 2021 when it took its brand message to new heights atop the Burj Khalifa.
This time, the brave stuntwoman is standing at the pinnacle of the tower once again, holding up message boards with an invitation to visit the world's greatest show, Expo 2020 Dubai, on the iconic Emirates A380.
She then gestures to her 'friend', the eye catching Emirates A380 wearing the Expo 2020 Dubai livery, which gracefully soars in the background as she stands firmly on the spire of the world's tallest building.
The ad also features dynamic aerial views of Dubai and its iconic skyline, and culminates in a flypast over the impressive Al Wasl dome at the Expo site.
.@Emirates does it again, scaling up and circling around the Burj Khalifa to put @expo2020dubai on top of the world's travel agenda. https://t.co/V4rpbXGoHz pic.twitter.com/tOfKw4zl01

— Dubai Media Office (@DXBMediaOffice) January 17, 2022
While the ad looked like it was shot effortlessly, the whole project involved in-depth planning and meticulous execution involving stakeholders across Dubai's aviation eco-system, with a strong focus on safety at every juncture when conducting the low flying manoeuvres.
The filming and low flypasts were conducted on 13 and 14 October 2021, and the timings of the flights were scheduled outside of the peak departures window at Dubai International as a further measure to mitigate any risk.