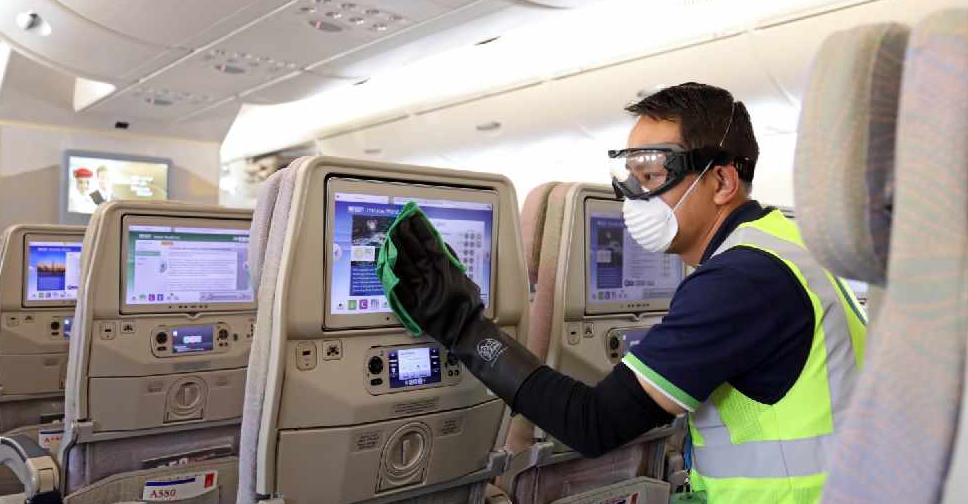 Twitter/EmiratesAirline
Emirates is stepping up efforts to combat the coronavirus outbreak by implementing enhanced cleaning of its aircraft.
A video released by the UAE carrier shows how every aircraft departing from its hub in Dubai is deep cleaned using an approved chemical that provides a long-lasting protective coating, and is eco-friendly.
A team of 18 trained cleaners carry out the operation on a Boeing 777 with an hour, while 36 cleaners are assigned for an A380.
The cleaning process includes a comprehensive wipe down of all surfaces – from windows, tray tables, seatback screens, armrests, seats, in-seat controls, panels, air vents and overhead lockers in the cabin, to lavatories, galleys and crew rest areas. All of this is done in addition to other normal procedures such as changing headrest covers on all seats, replacement of reading materials, vacuuming, and more.
In a 24-hour period on an average day, some 248 aircraft go through this process.
If the aircraft is found to have transported a suspected or confirmed COVID-19 case, then the carrier implements a stricter 6-8 hour deep cleaning and disinfection process. This will include defogging of cabin interiors and spraying disinfectants across all soft furnishings, and replacing seat covers and cushions in the affected area. The aircraft's HEPA cabin air filters will also be replaced.
All Emirates' aircraft are fitted with HEPA cabin air filters that filter out 99.97 per cent of viruses.
It comes as the airline announced its decision to introduce waiver policies for passengers without change and reissuance fees for booked tickets issued on or from March 7 until March 31.
The airline has also activated its contingency response team to monitor daily developments on the COVID-19 outbreak, maintain contact with all relevant health and regulatory authorities, and ensure the airline's response is current and appropriate.