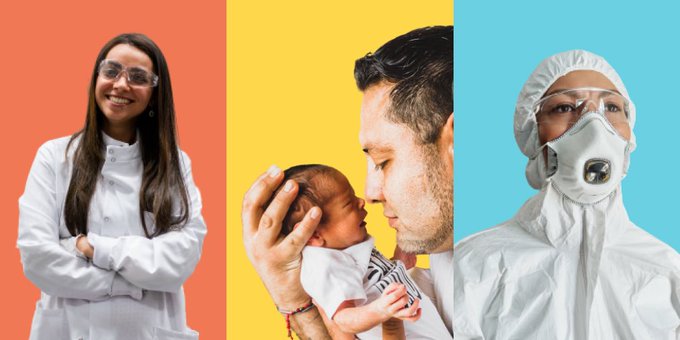 Strong images of women and men in non-traditional roles feature in a new video made by UN Women and UN Women UAE in a drive to broaden the media's approach to gender.
Men are seen loading washing machines and looking after children.
While women are portrayed working on construction sites and in laboratories.
The campaign - called the Unstereotype Alliance - aims to broaden gender representation in advertising.
UN Women has launched the Alliance's UAE National Chapter with a coalition of partners.
It is committed to tackling stereotypes of women and men in media and advertising.
Seven national and global companies are taking part; Etihad Aviation Group, Facebook, Google, LinkedIn, Omnicom Media Group, Snap Inc and Unilever, alongside the Advertising Business Group and the Dubai Lynx.
The UAE National Chapter represents the first initiative of its kind in the Middle East, and the sixth National Chapter of the Unstereotype Alliance, following Brazil, Japan, South Africa, Turkey, and the UK.
Recent research conducted by the Advertising Business Group and Zayed University concluded that the majority of television ads in the Gulf region continue to perpetuate traditional gender stereotypes.
Eighty-five per cent of those polled in the study believe that it is the responsibility of brands to depict women and men positively.
Her Excellency Noura Al Suwaidi, Director-General of the General Women's Union, said "The UAE and the General Women's Union are proud to support the launch of the UAE National Chapter of the Unstereotype Alliance. As the first country in the Middle East region and the sixth country in the world to host this initiative convened by UN Women, we are honoured to be able to contribute our national best practices to ensure that women are empowered in all aspects of life to achieve their full potential."
Dr. Mouza Al Shehhi, Director of the UN Women Liaison Office for the GCC, said, "UN Women is thrilled that the UAE is the first country in the Middle East region to establish a National Chapter of the Unstereotype Alliance. This speaks to the commitment and progress that the UAE has made on the women's empowerment agenda."
The #UnstereotypeAlliance UAE National Chapter has launched! The new Chapter unites advertisers to broaden the representation of women and men in non-traditional roles across the UAE.

Click the link below for more about our UAE National Chapter ⬇ https://t.co/KfHBcCEhFX pic.twitter.com/yNQ9hTsFsL

— Unstereotype Alliance (@un_stereotype) November 9, 2020