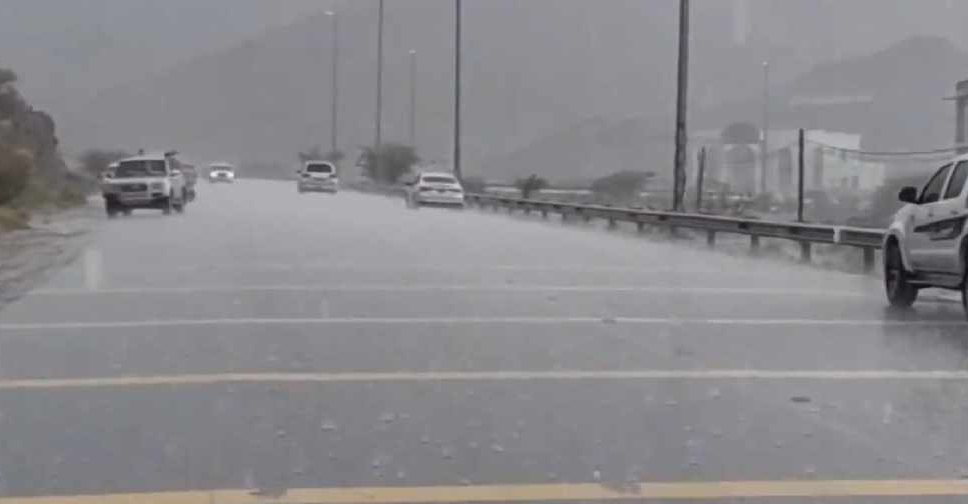 @NCMS_media/ Twitter
Authorities in the UAE have taken proactive measures to mitigate the impact of tropical cyclone Shaheen.
The storm made landfall in Oman on Sunday and is now making its way towards the Emirates.
Police have stepped up patrols around beaches, valleys, mountains and low-lying areas, and residents have been told to avoid these places.
Special field teams are on standby to immediately deal with the impact of adverse weather conditions, with an emphasis on clearing valleys and stormwater drainage.
The measures were outlined during the National Emergency, Crisis and Disaster Management Authority's (NCEMA) latest media briefing.
Officials highlighted the steps taken to ensure the safety of workers and added that all educational institutions in vulnerable regions have temporarily switched to distance learning.
#NCEMA: NCEMA Team Level Two, related to natural disasters, continues to follow up on the readiness of all concerned teams and to ensure that all proactive measures are taken to ensure the safety of all. pic.twitter.com/PYxEYapHZI

— NCEMA UAE (@NCEMAUAE) October 3, 2021
MOI: Preparedness degree of all police commands has been raised, to ensure safety of all and reduce impact on various regions. MOI has taken preventive measures, such as conducting number of security patrols in locations near beaches, valleys where torrential flows are expected. pic.twitter.com/yVZtD0PvsD

— NCEMA UAE (@NCEMAUAE) October 3, 2021
Authorities have urged the public to cooperate with police units, abide by warnings, and to monitor the news and weather updates from official sources.
The National Centre of Meteorology (NCM), in coordination with its partners, is closely monitoring the cyclone's path and its impact on the UAE.
An NCM spokesperson said the storm can bring wind speeds ranging between 120 kph and 140 kph but is expected to weaken significantly after landfall.
Meanwhile, the Ministry of Foreign Affairs and International Cooperation is in close contact with UAE citizens who are currently in Oman.
#NCEMA: Regarding #UAE citizens who are in the Sultanate of Oman, the Ministry of Foreign Affairs and International Cooperation has communicated with them and provided all necessary information, and confirmed for those wishing to return to UAE have to perform #Covid19 tests.

— NCEMA UAE (@NCEMAUAE) October 3, 2021