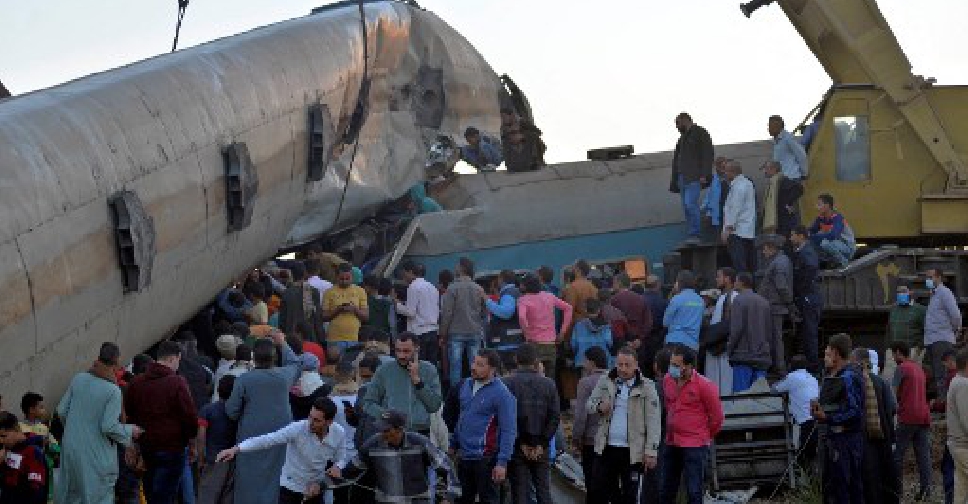 AFP
President His Highness Sheikh Khalifa bin Zayed Al Nahyan has sent condolences to Abdel-Fattah el-Sisi, President of Egypt, for the victims of the collision between two passenger trains in Sohag governorate in Upper Egypt.
His Highness Sheikh Mohammed bin Rashid Al Maktoum, Vice President, Prime Minister and Ruler of Dubai, and His Highness Sheikh Mohamed bin Zayed Al Nahyan, Crown Prince of Abu Dhabi and Deputy Supreme Commander of the UAE Armed Forces, have also dispatched similar cables of condolences to the Egyptian President.
The death toll from a collision of two trains in central Egypt on Friday has been revised to 19, from 32, Egypt's health minister said in a statement on Saturday.
The number of people injured went up to 185 from 165.
Egypt's public prosecutor's office said it had ordered an investigation into the crash, which took place close to the Nile-side town of Tahta, about 365 km south of Cairo.
President Abdel Fattah al-Sisi said those responsible would be punished, and asked the government to double the normal financial compensation for casualties in public transport accidents.
The United Arab Emirates has expressed solidarity with Egypt over the incident.
The Ministry of Foreign Affairs and International Cooperation in a statement extended its sincere sympathy to the country's government and to the families of the victims over this great tragedy.