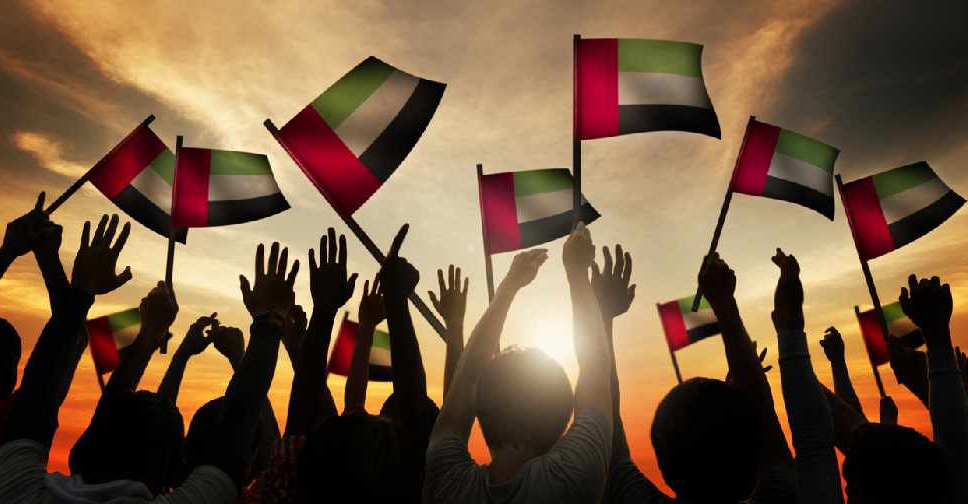 Residents across the UAE stepped out on to their balconies on Friday night to sing the national anthem in honour of healthcare workers fighting the COVID-19.
Several videos posted on social media showed people wave the UAE national flag, play instruments and sing the UAE national anthem Ishy Biladi (Long Live My Country).
Teams from the Abu Dhabi Police were also seen joining in the Together We Chant for UAE initiative that was launched by the Maitha Bint Ahmed Al Nahyan Foundation and the National Happiness and Positivity Programme.
يثمن مجتمع #أبوظبي الجهود الاستثنائية للقيادة الرشيدة في مواجهة فيروس كورونا المستجد، ويعبر عن تضامنه وتماسكه من خلال إنشاد وترديد النشيد الوطني بمشاركة الأبطال العاملين في خط الدفاع الأول. pic.twitter.com/VSm4S2OR1L

— مكتب أبوظبي الإعلامي (@ADMediaOffice) April 17, 2020
It comes just days after UAE residents took to their balconies to sing the national anthem as a symbol of hope and solidarity.
His Highness Sheikh Mohamed bin Zayed Al Nahyan, Crown Prince of Abu Dhabi and Deputy Supreme Commander of the UAE Armed Forces, had earlier said he got emotional when he heard expatriates singing the UAE's national anthem from the balconies during the disinfection drive.