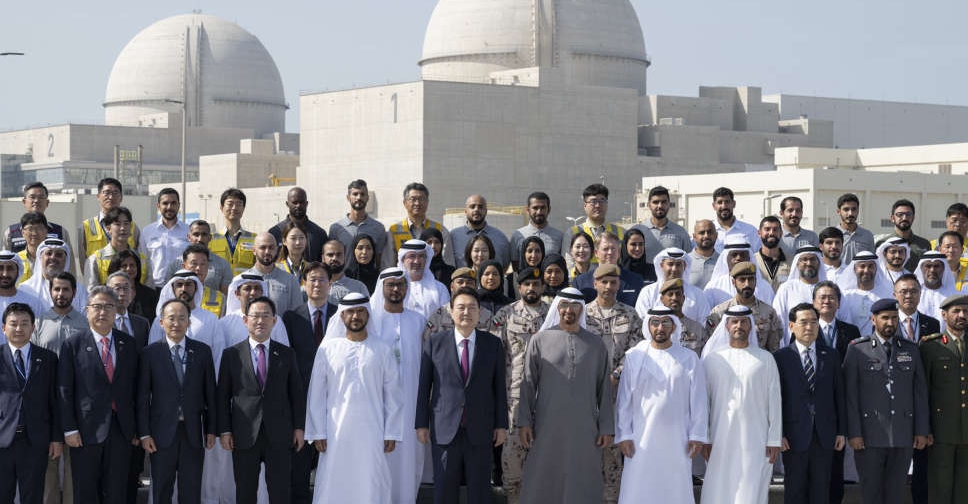 @MohamedBinZayed/ Twitter
The UAE's President His Highness Sheikh Mohamed bin Zayed Al Nahyan and his South Korean counterpart Yoon Suk Yeol visited the Barakah nuclear energy plant on Monday.
The two leaders attended celebrations to mark the completion of Unit 3 and reviewed the plant's overall progress.
They praised the exceptional achievements of the project, which is the first civil nuclear energy plant in the Arab World and the largest source of clean electricity in the region.
During the visit, Sheikh Mohamed and Yoon met with the teams working at the plant, including Emirati and Korean nuclear energy experts.
More than 50 nationalities are working at the facility, which once fully operational, will provide up to 25 per cent of the UAE's electricity needs without any carbon emissions.
Sheikh Mohamed praised the efforts of the Emirati and Korean experts who have worked over the past decade to develop the Barakah Plant in accordance with the highest standards of safety and best practices.
He said that the nuclear plant is one of the most significant strategic projects between the UAE and South Korea, and a key part of the UAE Net Zero by 2050 strategic initiative.
"The Barakah nuclear plant, which has two units in operation and the other two soon to be operational, holds great, monumental significance as it represents the special strategic partnership between the United Arab Emirates and the Republic of Korea," added Yoon.
Today, South Korean President Yoon and I visited the Barakah Nuclear Energy Plant to celebrate the completion of its Unit 3, a major milestone in one of the most significant strategic projects between our two nations and a key part of the UAE Net Zero by 2050 strategic initiative pic.twitter.com/rEIkBC2rlM

— محمد بن زايد (@MohamedBinZayed) January 16, 2023
The UAE and South Korea have had close ties for 40 years.
In 2009, the UAE awarded the prime contract for the construction of the Barakah plant to Korea Electric Power Company (KEPCO), which during the peak of construction was the largest nuclear energy project globally.
The relationship formed the basis of a new era of partnership in 2016, when the Emirates Nuclear Energy Corporation (ENEC) and KEPCO signed a joint venture agreement to support the sustainable operations of the Barakah Plant over the coming 60 years of operations and beyond.
Once fully operational, the Barakah Plant will provide abundant clean and reliable electricity 24/7 to power the UAE's industries and over half a million homes, as well as supporting the UAE's strategy for becoming a net-exporter of LNG by 2030.