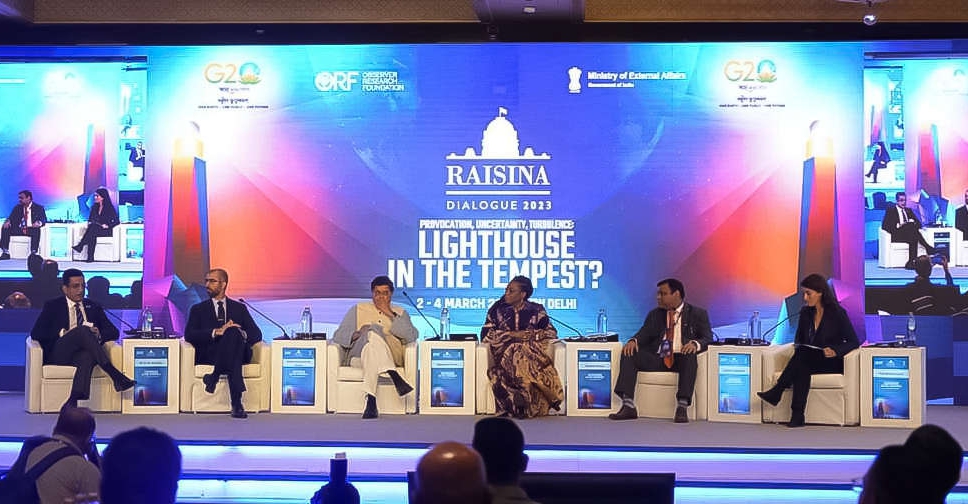 WAM
The UAE has succeeded in adopting state-of-the-art digital and futuristic solutions as a key pillar in enhancing prosperity efforts, according to Omar Sultan Al Olama, the UAE Minister of State for Artificial Intelligence, Digital Economy and Remote Work Applications.
Al Olama was delivering his keynote speech in the Bytes of Promise: How Can Technology Lift Communities session as part of the UAE Government's participation at the Raisina Dialogue 2023 in India, the leading global conference on international affairs which is in its 8th edition held in partnership between the Ministry of External Affairs and Observer Research Foundation.
It witnessed the participation of representatives from over 100 countries, including Ministers, Military Commanders, Captains of Industry, Technology Leaders, and Strategic Affairs' experts.
Al Olama added that the UAE is keen on sharing knowledge, experience, and success stories through designing future approaches and participating in international conferences to enhance the new digital era and implement the technology to serve communities, as well as to enhance the technical infrastructure in various fields inbuilding a comprehensive digital future.
Al Olama pointed out the importance of designing technological policies that embrace global development, growth, and accelerate changes, stressing the need to develop digital and technological opportunities for start-ups that support building upon a more effective global economy that invests in the skills of talented entrepreneurs and enhances agility to adapt to various changes in global economies.
The session discussed challenges in finance and infrastructure in domestic and international policies, challenges against the spread of digital technology to communities and companies, and digitalisation's role in enhancing resilience and access for communities and supply chains to achieve sustainable economic growth.
It also touched upon the importance of upgrading skills alongside economies' adjustment to the technological revolution and setting policies that keep pace with the next era of technological development in various digital sectors, such as artificial intelligence, the Metaverse, and others, and the best platforms that can speed up this process.
حكومة الإمارات تشارك في حوار "رايسينا" الهندي 2023#وام https://t.co/QfHHKzPNli

— وكالة أنباء الإمارات (@wamnews) March 5, 2023