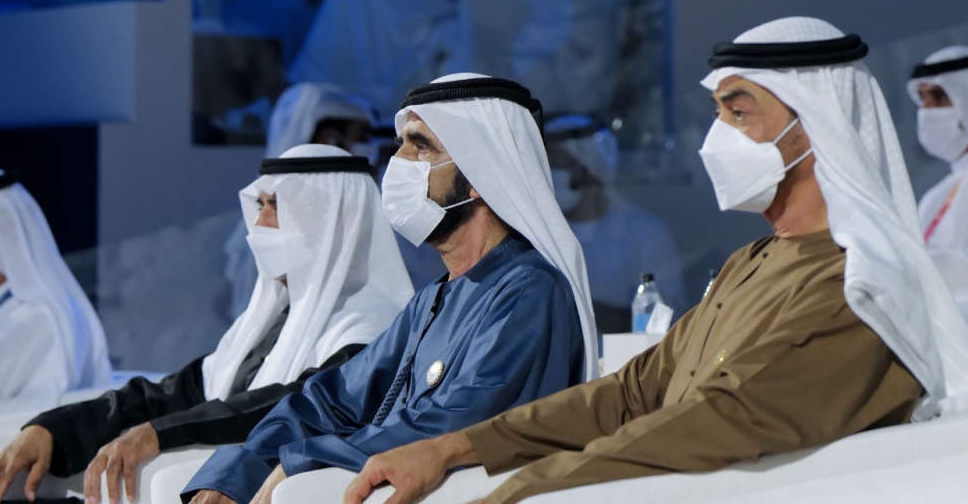 @DXBMediaOffice/ Twitter
The UAE's leaders welcomed delegations from across the world participating in Expo 2020 Dubai at the event's spectacular opening ceremony on Thursday.
His Highness Sheikh Mohammed bin Rashid Al Maktoum, Vice President and Prime Minister of the UAE and Ruler of Dubai, and His Highness Sheikh Mohamed bin Zayed Al Nahyan, Crown Prince of Abu Dhabi and Deputy Supreme Commander of the UAE Armed Forces welcomed the participants from 192 countries who have converged on Dubai for the mega event, which is being held for the first time in the Middle East, Africa and South Asia (MEASA) region.
During the ceremony, their Highnesses conveyed the greetings and wishes of President His Highness Sheikh Khalifa bin Zayed Al Nahyan.
Sheikh Mohammed bin Rashid said the opening of Expo 2020 is a historic moment for the UAE that is the culmination of the collaborative efforts of national teams who have worked with dedication, passion and pride to deliver an exceptional event.
The UAE has shown the world that it always embraces challenges and that it is capable of emerging stronger from crises by creating new opportunities for growth and development," he said.
"Expo 2020 reflects the UAE's inclusive culture which brings together the whole globe in one nation. Today, the world has gathered here to offer the best of what they have, and in return, we will offer the best of what we have. We are committed to deliver the most exceptional Expo the world has ever seen," Sheikh Mohammed added.
Welcoming global participants, Sheikh Mohamed bin Zayed said Expo provides an unparalleled platform for new international economic, technological and commercial partnerships, and a worldwide dialogue to unlock new avenues for progress.
He also expressed his appreciation for the talented teams from the UAE and other nations that have worked to organise the event and called on everyone in the UAE to contribute towards making the event a great success.
"The holding of the event for the first time in the Middle East, Africa and South Asia region is a testament to the rapid strides the UAE has made in various spheres of life and the commitment it has shown to building global collaboration," added Sheikh Mohamed.
.@HHShkMohd and @MohamedbinZayed attend the opening ceremony of @Expo2020Dubai. #Dubai #Expo2020 #UAE pic.twitter.com/6vhDt1n5O8

— Dubai Media Office (@DXBMediaOffice) September 30, 2021