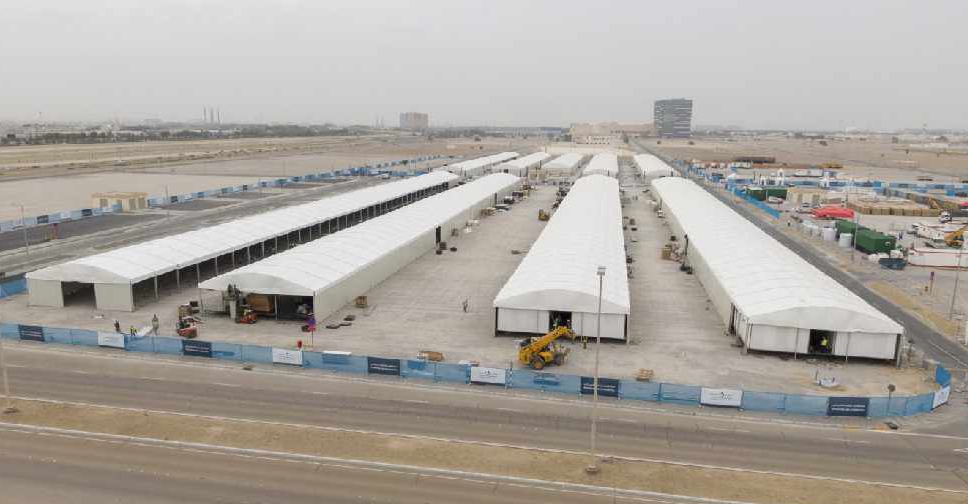 The UAE is setting up two new field hospitals in Abu Dhabi and another one in Dubai to care for COVID-19 patients.
They are being developed by Abu Dhabi Health Services Company, SEHA.
One of them is expected to open at Dubai Parks and Resorts by the end of this month, with room for 1,200 patients and operated by 200 medical professionals.
A 1,000-bed facility is taking shape at the Abu Dhabi National Exhibition Centre (ADNEC) as well, while another 1,200 beds will be ready at Emirates Humanitarian City (Mohamed bin Zayed City, Abu Dhabi) in the first week of May.
His Highness Sheikh Khalid bin Mohamed bin Zayed Al Nahyan, Member of the Abu Dhabi Executive Council and Chairman of the Abu Dhabi Executive Office, visited both the field hospitals in Abu Dhabi to inspect the facilities and resources being offered to patients.
خالد بن محمد بن زايد أثناء تفقد مستشفيين ميدانيين من أصل 3 مستشفيات ميدانية عملت شركة "صحة" على إنشائها وتجهيزها في أبوظبي ودبي، لدعم القطاع الصحي بالمزيد من المرافق الطبية المتكاملة، المجهزة لتوفير أفضل خدمات الرعاية والعلاج. pic.twitter.com/VXgTXhM4RW

— مكتب أبوظبي الإعلامي (@ADMediaOffice) April 21, 2020
Under the directives of Mohamed bin Zayed, Khalid bin Mohamed bin Zayed inspected 2 field hospitals out of 3 constructed by @SEHAHealth in Abu Dhabi & Dubai. The new facilities will support the health sector with more integrated medical services & help curb the spread of COVID-19 pic.twitter.com/3ANYNx8msa

— مكتب أبوظبي الإعلامي (@ADMediaOffice) April 21, 2020