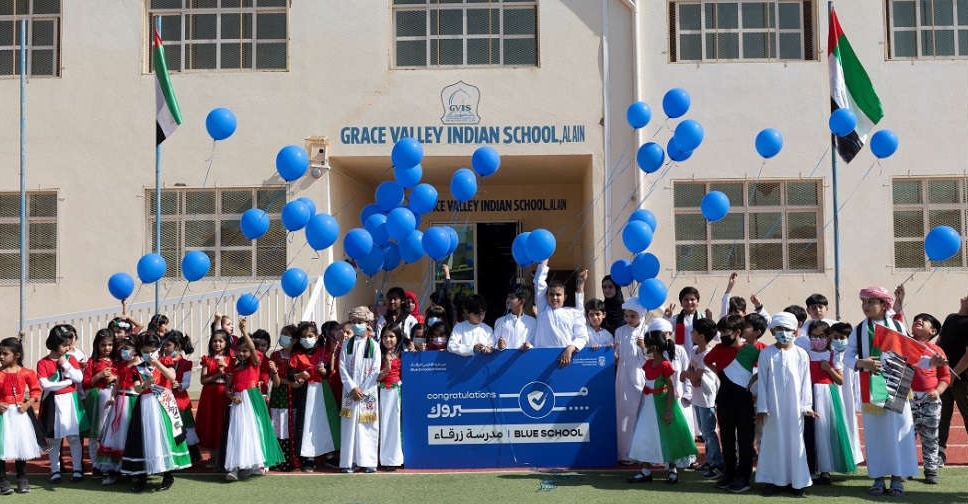 Supplied
Pupils at a school in Al Ain can now venture outdoors without wearing masks after it achieved a student vaccination rate of over 85 per cent.
Grace Valley Indian School has been allowed to ease several COVID-19 precautionary measures after reaching the top tier of a safety scheme rolled out by the Abu Dhabi Department of Education and Knowledge (ADEK).
Physical distancing requirements have also been removed at the school, while it can resume all events, including assemblies and graduation ceremonies.
Under ADEK's Blue Schools Initiative, private and charter schools with higher student vaccination rates will be able to gradually ease restrictions and enjoy more privileges.
Since its activation earlier this month, seven schools have progressed from Orange to Yellow tier, while one has moved from Yellow to Green tier, with those in Green getting a step closer to achieving the coveted top Blue tier.
A total of 107,000 students across Abu Dhabi schools have been vaccinated against COVID-19 so far, representing 39 per cent of the total student population.
They include include 94 per cent of students aged 16+, 70 per cent of 12 to 15-year-olds, and 40 per cent of under 12.
A survey by ADEK indicated that an additional 52,000 parents are interested in vaccinating their children, a decision that will allow more schools to advance through the Blue Schools Initiative tiers, expediting a return to normalcy.
ADEK is coordinating with the relevant health authorities to provide dedicated vaccination locations for Abu Dhabi school students.
Vaccination of pupils under 16 continues to remain voluntary, according to government protocols.
"Since Blue Schools Initiative's activation just two weeks ago, we have seen a prominent increase in student vaccination rates. School community stakeholders, including students, parents, principals, and teachers have worked collectively to make this possible," said Sara Musallam, Chairwoman of ADEK.
The first Blue Schools Initiative update reveals that 9 schools have advanced through the Initiative's four tiers following an increase in student vaccination rates. Since the initiative launched earlier this month, 7 schools have advanced from Orange to Yellow tier pic.twitter.com/R6focPCsbN

— التعليم والمعرفة (@ADEK_tweet) November 23, 2021