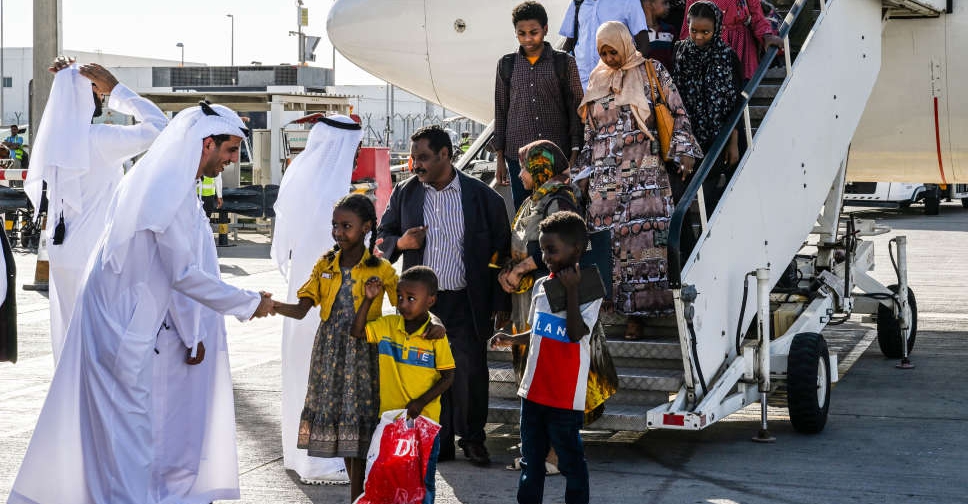 WAM
An evacuation flight arrived in the United Arab Emirates yesterday afternoon, carrying 176 nationals from seven countries and a number of international media professionals out of Sudan, which has seen violent clashes since the middle of last month.
The UAE continued the process of prioritising the evacuation of the most vulnerable groups, including the sick, children, the elderly and women.
The UAE will host the evacuees and provide them with all necessary support and assistance prior to being transferred to their home countries.
In a statement, the Ministry of Foreign Affairs and International Cooperation (MoFAIC) confirmed the success of the evacuation operation, which has been carried out by the UAE as part of its humanitarian efforts and commitment to strengthening global cooperation and solidarity, and providing protection for civilians and facilitating aid and assistance to countries in times of need.
The Ministry stressed the UAE's commitment to work with its partners and the international community to serve the interests of the Sudanese people, stressing the importance of intensifying efforts to secure a ceasefire and to return to the political process in order achieve political stability and security in Sudan.
The UAE continues to provide hosting and care services for the evacuees after their evacuation to the city of Port Sudan. Moreover, the UAE sent two relief planes to Sudan on Friday; the first, in cooperation with the World Health Organisation, carrying 30 tonnes of urgent medical supplies, and the second carrying 30 tonnes of food and relief supplies.