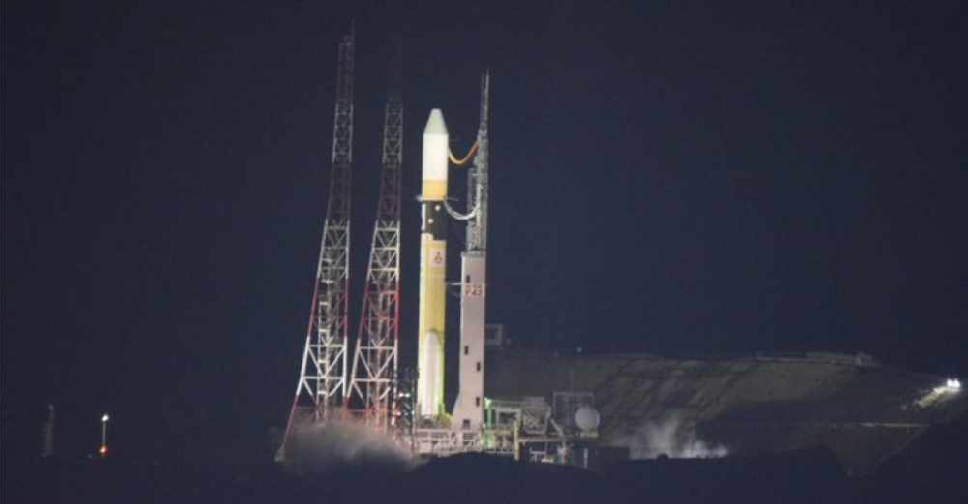 Dubai Media Office
The Emirates Mars Mission is scheduled to take off later tonight with the launch of the Hope Probe on Monday at 1:58 am UAE time.
The Emirates Space Agency and the Mohammed bin Rashid Space Center (MBRSC) are leading the launch with their engineers based in Dubai and at the launch site in Tanegashima Space Center in Japan.
Here are the latest updates from the launch site.
The ground segment at Mohammed bin Rashid Space Centre, has received and communicated the first signals with the #HopeProbe. #HopeMarsMission pic.twitter.com/1iFgd5248J

— Hope Mars Mission (@HopeMarsMission) July 20, 2020
History in the making as #UAE's Hope Probe heads to Mars pic.twitter.com/xvRtdsYYak

— Dubai Media Office (@DXBMediaOffice) July 19, 2020
Live coverage of the launch of #UAE's historic Mars mission with 'Hope Probe' preparing for lift-off from Japan's Tanegashima Space Centre@HopeMarsMissionhttps://t.co/s6PobCDfFY

— Dubai Media Office (@DXBMediaOffice) July 19, 2020
.@MHI_LS: 良い天気になりました。朝の光を浴びながら打上げの時を待ちます。
The best weather condition for launch. Waiting for the launch in the morning light. #H2AF42 pic.twitter.com/qbZkwf3l0t

— Dubai Media Office (@DXBMediaOffice) July 19, 2020
Final preparations at the @MBRSpaceCentre's Ground Station for the launch of @HopeMarsMission. pic.twitter.com/1PDC66fiOn

— Dubai Media Office (@DXBMediaOffice) July 19, 2020
100 Minutes to go for the launch of @HopeMarsMission. pic.twitter.com/KQH9VjmYjF

— Dubai Media Office (@DXBMediaOffice) July 19, 2020
تتابعون تغطية مباشرة على #قنوات_دبي تواكب انطلاق #مسبار_الأمل في رحلته التاريخية إلى #المريخ #أول_عد_تنازلي_عربي #لا_شيء_مستحيل https://t.co/KmnDbTumTz

— تلفزيون دبي (@dubaitv) July 19, 2020
#أول_عد_تنازلي_عربي في عرض على أعلى ناطحة سحاب في العالم.. لحظات للتاريخ يكتبها شباب المستقبل...#العرب_إلى_المريخ #مسبار_الأمل pic.twitter.com/6W7fskLP5Z

— Dubai Media Office (@DXBMediaOffice) July 19, 2020
.@MHI_LS: 美しい星空の下、ここまでのターミナル・カウントダウン作業は計画通り順調に進行しています。今夜は火星もよく見えます。Under the beautiful starry sky, the terminal countdown operation is proceeding smoothly as planned. We can see Mars well tonight. #H2AF42 @HopeMarsMission pic.twitter.com/0mgilWjyZj

— Dubai Media Office (@DXBMediaOffice) July 19, 2020
With just over 9 hours until launch, the final checks have been made for the rocket carrying the #UAE Hope Probe to Mars - checking operational conditions of launch vehicle, satellites, and tracking & control systems, as well as weather conditions.@HopeMarsMission pic.twitter.com/gWi5J9xkjJ

— Dubai Media Office (@DXBMediaOffice) July 19, 2020
Video: The #UAE's Hope Probe prepares to embark on its historic journey in 11 hours.

Watch the live broadcast of the launch on https://t.co/z4zeZkWr0i @HopeMarsMission pic.twitter.com/eRxgonUivY

— Dubai Media Office (@DXBMediaOffice) July 19, 2020
The #UAE's Hope Probe prepares to embark on its historic journey in 11 hours.

Watch the live broadcast of the launch on https://t.co/z4zeZkWr0i @HopeMarsMission pic.twitter.com/By4RR8yG43

— Dubai Media Office (@DXBMediaOffice) July 19, 2020
Getting ready for a historical journey. @HopeMarsMission pic.twitter.com/TAxT22cpzb

— Dubai Media Office (@DXBMediaOffice) July 19, 2020