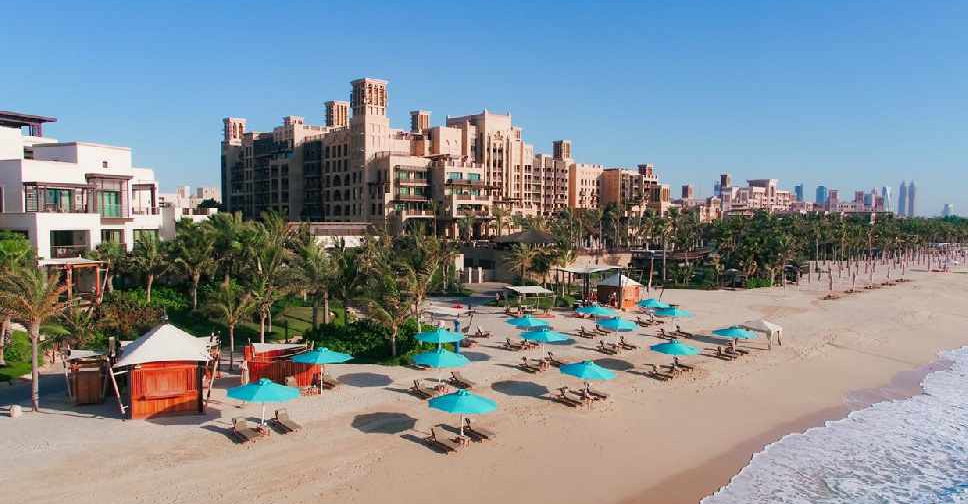 Supplied
The Dubai government says health and safety are top priority as the emirate's hotels reopen.
The Department of Tourism and Commerce Marketing (Dubai Tourism) is taking steps to ensure that establishments are complying with the precautionary measures related to COVID-19.
Some restrictions have been relaxed, including the reopening of hotel beaches and resumption of water sports activities.
Only hotel guests are allowed to access private beach properties where they have to maintain a safe distance between one another, along with their sun beds.
Hotels are also required to implement stringent disinfection measures across all their facilities.
Meanwhile, restaurants within the hotels are allowed to operate with reduced seating arrangements while maintaining a distance of two metres between tables.
Take-away meals, home deliveries and contactless payments are being actively encouraged.
"With the hospitality sector being the cornerstone of Dubai's tourism industry, the gradual lifting of restrictions placed on hotels will pave the way for more people in the Emirates to enjoy a staycation, as the domestic market is expected to immensely contribute towards the revival of the city's tourism industry in the initial stages," said Khalid Saeed Bin Touq, Executive Director of Tourism Activities and Classification Sector at Dubai Tourism.
Dubai Tourism is also working closely with key aviation partners, including Emirates Airline, which is resuming passenger flights to nine destinations on May 21, and Dubai Airports, in the implementation of health and safety protocols aimed at reassuring tourists.
#Dubai's Hotel sector is healthy&this prudent approach prepares the industry for an even stronger resurgence post Covid.Guided by the expert advise of our team of advisors,we have been gradually restarting various economic sectors&services to ensure continued economic resilience.

— Dubai Media Office (@DXBMediaOffice) May 20, 2020
Detailed guidelines for hotels:
Guests are advised to maintain a distance of two metres between one another, along with their sun beds
There should also be a gap of four metres between two groups of people and their sun-beds on the beach, with a defined number of people. Only hotel guests are allowed to access the private beach property, following stringent protocols to minimise any contagion risks
All properties will have to adhere to sanitisation guidelines, and inspectors from Dubai Tourism will be regularly monitoring the hotel beaches
Hotels are required to deploy stringent disinfection measures of their facilities (daily and frequently), including thorough sterilisation and cleaning of all rooms, facilities, air conditioning systems, equipment, water tanks and washrooms, as well as enhanced sanitisation covering contact points in lobbies and other common areas
Elevators will have to maintain a reduced and defined percentage of the passenger capacity while entrances to hotels have to be fitted with equipment for contactless screening of guests
The health and well-being of our people and all of Dubai's communities will remain our first and foremost priority."

— Dubai Media Office (@DXBMediaOffice) May 20, 2020