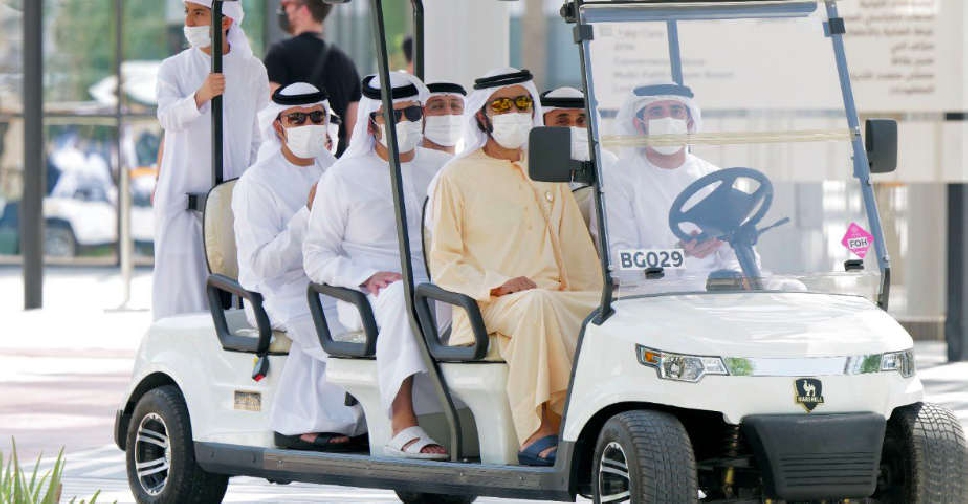 Twitter/@HHShkMohd
His Highness Sheikh Mohammed bin Rashid Al Maktoum, Vice President and Prime Minister of the UAE and Ruler of Dubai, visited Expo 2020 Dubai as it opened its doors to the world today.
Sheikh Mohammed visited the UAE, US, China and Kazakhstan pavilions along with His Highness Sheikh Hamdan bin Mohammed bin Rashid Al Maktoum, Dubai's Crown Prince and Chairman of the Executive Council, and His Highness Sheikh Maktoum bin Mohammed bin Rashid Al Maktoum, Deputy Prime Minster and Minister of Finance.
Taking to his official Twitter handle, Sheikh Mohammed shared images of his visit, highlighting how "East and West meet in Dubai".
Sheikh Mohammed began his tour by visiting the UAE pavilion. "Following in the footsteps of our founding fathers, we are determined to lead our nation to greater levels of achievement and excellence. With a clear vision, determination and a steadfast focus on our goals, we are making rapid progress in achieving our aspirations," His Highness said.
أثناء أول جولة لي في الحدث الكبير صباح اليوم … جناح الإمارات في إكسبو .. تحفة معمارية .. ومحتوى ثقافي متميز pic.twitter.com/Y9iMtiQNo3

— HH Sheikh Mohammed (@HHShkMohd) October 1, 2021
During the visit, His Highness expressed his appreciation for the efforts of all the people who were involved in the construction of the pavilion.
Located in the heart of Al Wasl Plaza, the pavilion designed by Spanish architect Santiago Calatrava is a symbol of the nation's bold and daring spirit. Created to highlight both the UAE's rich heritage and bright future, the pavilion's four storeys cover an area of more than 15,000 square metres. The design of the pavilion also evokes the pioneering spirit and power of connections that transformed the UAE from a collection of small, desert communities into a global connection point.
كما زرت اليوم جناح الصديقة كازاخستان .. علاقاتنا مع كازاخستان في تطور مستمر .. وتواجدهم ضمن إكسبو دبي فرصة لترسيخ هذه العلاقات .. pic.twitter.com/57Wz3IEmRv

— HH Sheikh Mohammed (@HHShkMohd) October 1, 2021
Speaking on the importance of Expo 2020 Dubai, Sheikh Mohammed bin Rashid said: "Bringing together participants from 192 countries, Expo 2020 paves the way for a new united approach to overcoming one of the most difficult periods in the planet's history and forging a new path of sustainable development. Expo 2020 held in the UAE can serve as the catalyst for the emergence of a new interconnected world in which nations come together in a spirit of partnership and cooperation to create a glorious future for mankind."
كما تجولت اليوم أيضا في الجناح الأمريكي وجناح الصين .. الشرق والغرب يجتمعان في دبي .. ويتحدثان في دبي .. وتتلاقى ثقافتهما على أرض دبي pic.twitter.com/yUoQgUQIzi

— HH Sheikh Mohammed (@HHShkMohd) October 1, 2021
Earlier, Sheikh Hamdan shared footage of his Dubai Metro ride to the Expo 2020 site via his official Instagram account.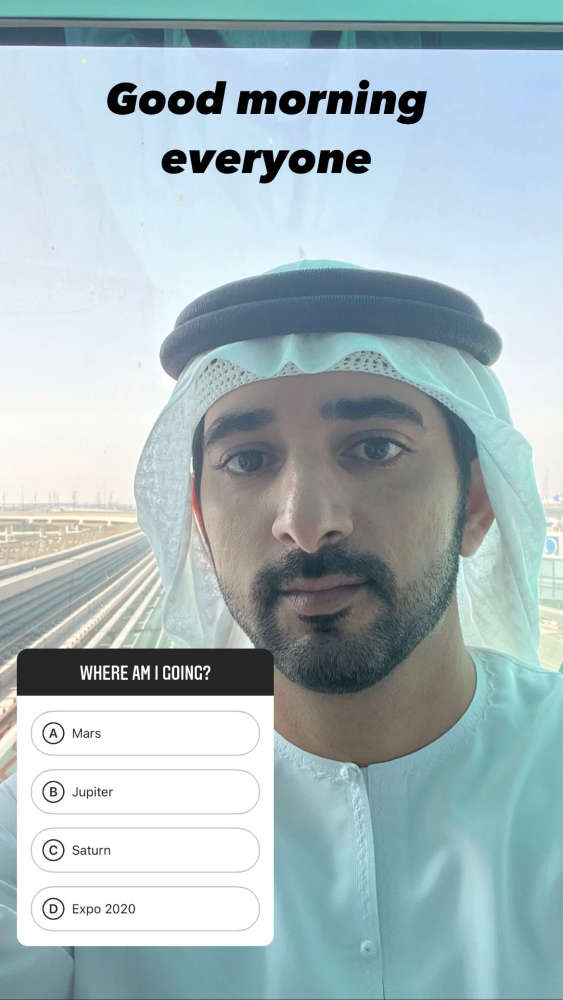 Sheikh Nahayan Mabarak Al Nahayan, UAE Minister of Tolerance and Coexistence and Commissioner General of Expo 2020, was also spotted visiting the site on the first day.
As Expo 2020 Dubai officially starts today, the doors to the greatest gathering will be opened by His Excellency Sheikh Nahayan Mabarak Al Nahayan, UAE Minister of Tolerance and Coexistence and Commissioner General of Expo 2020. pic.twitter.com/eCxpZUZagV

— Expo 2020 Dubai (@expo2020dubai) October 1, 2021