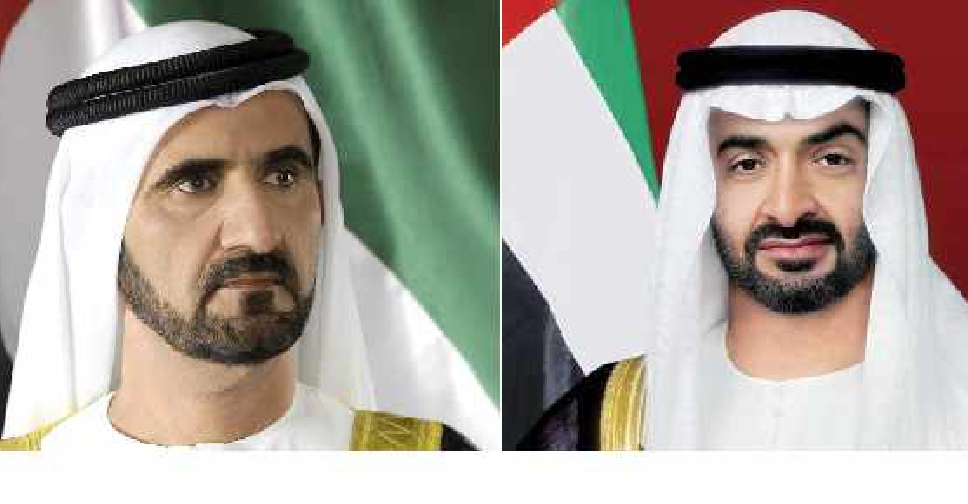 WAM
The leaders of the United Arab Emirates have been paying their respects to the nation's martyrs on Commemoration Day.
His Highness Sheikh Mohammed bin Rashid Al Maktoum, Vice-President and Prime Minister of the UAE and Ruler of Dubai, posted a statement on social media commending the heroes for striving to protect the UAE.
His Highness said the nation stands in reverence, respect and loyalty to them.
A minute of silence was observed nationwide at 11:30 am on Monday to mark Commemoration Day.
تحية لشهداء الوطن الأبرار.. تحية لأمهات الشهداء الأخيار.. تحية لأبناء قواتنا المسلحة الباذلين أنفسهم لحماية تراب الإمارات.. يقف وطننا اليوم من شماله لجنوبه ومن شرقه لغربه إجلالًا واحتراماً ووفاءً لمن وضع روحه على كفه .. وأرخصها في سبيل وطنه.. المجد والخلود للشهداء #يوم_الشهيد pic.twitter.com/z458jgJzf6

— HH Sheikh Mohammed (@HHShkMohd) November 30, 2020
Paying his tribute, His Highness Sheikh Mohamed bin Zayed Al Nahyan, Crown Prince of Abu Dhabi and Deputy Supreme Commander of the UAE Armed Forces, said, "We salute the 'heroes of humanity' who sacrificed their lives in the first line of defence with dedication and sincerity while protecting society."
The Abu Dhabi Crown Prince said they "made the ultimate sacrifice on the frontline of defence of this country. They will remain in our hearts and inspire future generations".
His Highness added, "On Martyrs Day, I would like to join the nation in paying tribute to their heroism and saluting their devotion to protecting our country and our people."
On this day, we salute the fallen Frontline Heroes for their courage and dedication. They made the ultimate sacrifice on the frontline of defence of this country. They will remain in our hearts and inspire future generations.

— محمد بن زايد (@MohamedBinZayed) November 30, 2020