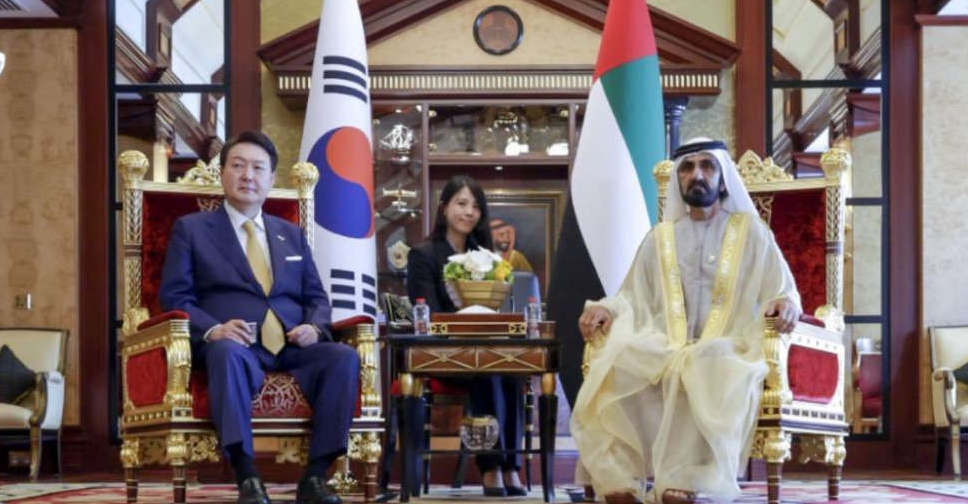 His Highness Sheikh Mohammed bin Rashid Al Maktoum, Vice President and Prime Minister of the UAE and ruler of Dubai, has hailed the country's strong relations with South Korea as "exemplary" during his meeting with their leader Yoon Suk Yeol.
Taking to Twitter, Sheikh Mohammed said the UAE will support the "26 new agreements" signed during the Korean leader's UAE state visit and expressed confidence that it "will reach unprecedented levels of strategic cooperation".
So far, both countries have achieved immeasurably while teaming up in the space and energy sectors, the Dubai ruler recalled.
"Our relations with them are exemplary. In space, we cooperated in transferring knowledge. In energy, we built the largest nuclear plant in the world. In trade, we are their first Arab partner," Sheikh Mohammed wrote.
التقيت اليوم ضيف البلاد فخامة الرئيس الكوري يون سيوك يول.. علاقاتنا معهم نموذجية. في الفضاء تعاونا في نقل المعرفة، في الطاقة شيدنا أكبر محطة نووية في العالم، في التجارة نحن شريكهم العربي الأول. وسندعم 26 اتفاقية جديدة تم توقيعها للوصول لمستويات غير مسبوقة من التعاون الاستراتيجي. pic.twitter.com/PbZMzwp4Gf

— HH Sheikh Mohammed (@HHShkMohd) January 17, 2023