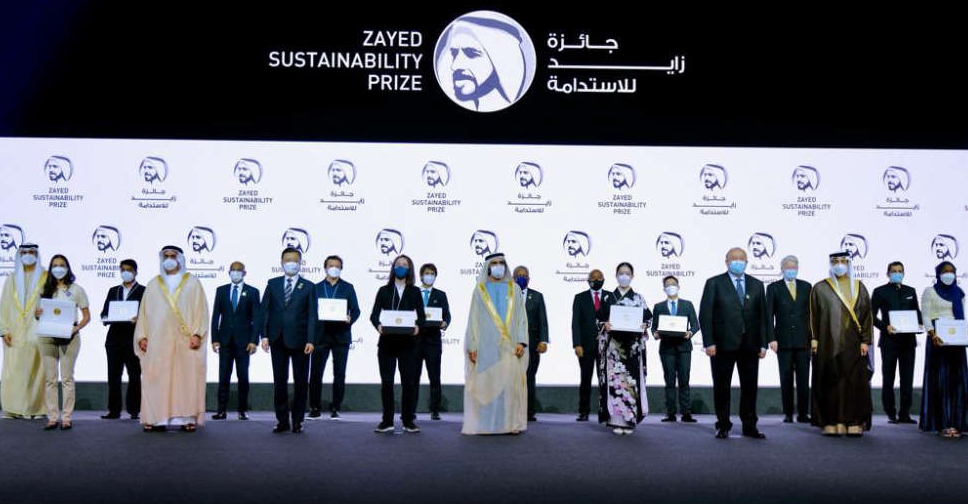 @DXBMediaOffice/ Twitter
The winners of the 2022 Zayed Sustainability Prize were announced during the opening ceremony of the Abu Dhabi Sustainability Week at Expo 2020 Dubai on Monday.
His Highness Sheikh Mohammed bin Rashid Al Maktoum, Vice President and Prime Minister of the UAE and Ruler of Dubai, honoured the 10 winners across five different categories.
The event at Expo 2020's Dubai Exhibition Centre brought together thousands of attendees and more than 600 VIPs from around the world, including heads of state, government ministers, industry leaders and country ambassadors, among others.
"Over the last 14 years, the wise and long-term vision and legacy of the UAE's founding father, Sheikh Zayed, has ignited the passion of millions of sustainability pioneers the world over, inspiring us to take the Prize to new heights by strengthening and diversifying its offerings to become the all-encompassing award it is today," said Sheikh Mohammed.
The US$3 million Prize is the UAE's pioneering sustainability award that recognises small to medium-sized enterprises (SMEs), non-profit organisations (NPOs), and global high schools for their innovative, impactful, and inspirational sustainability and humanitarian solutions.
Through its 86 former winners, the Prize has transformed the lives of more than 370 million people, across 150 countries, since 2008.
In the Health, Food, Energy, and Water categories, each winner receives USD 600,000, while the Global High Schools category has six winners, representing six world regions, with each winner receiving up to USD 100,000.
. @HHShkMohd honours 10 Winners of 2022 Zayed Sustainability Prize during the 2022 Abu Dhabi Sustainability Week (ADSW) held at @expo2020dubai.@ADSWagenda pic.twitter.com/zcGxpBdFqU

— Dubai Media Office (@DXBMediaOffice) January 17, 2022
In the 'Health' Category, Argentina's Mamotest was awarded the Prize for its efforts to increase access to diagnoses and life-saving services in tele-radiology and remote analysis.
Mamotest is currently deploying centres that are providing 582,697 beneficiaries affected by breast cancer, access to quality healthcare, with plans to scale this to over 1 million people over a period of five years.
It also enjoys robust patient-journey follow up as 87% of women diagnosed within their system could receive lifesaving treatment on time.
S4S Technologies from India was the 'Food' category winner for its important work in food preservation and dehydration systems.
They currently directly impact 35,820 people and the SME plans to scale this to 10 million individuals over the course of five years.
The organisation is committed to empowering rural women and harnessing new technology to reduce food waste and improve income for farmers and is deploying solar-powered technology to help women farmers increase their earnings.
As part of its commitment to supporting Gender Equality, backed by economic opportunities, S4S Technologies has provided additional income to 455 women farmers turned micro-entrepreneurs, increasing their profit between 50 to 200%, annually.
In the 'Energy' category, the Bangladesh-based SOLshare created an interconnected microgrid for peer-to-peer energy exchange networks to enable more efficient distribution of electricity across rural communities in the country.
The organisation won the 2022 award for its efforts in energy management as it currently benefits a total of 35,300 people with plans to expand reach to 2 million people in the next five years.
SOLshare is providing more than 1,000 households with access to over 85 MWh of additional clean energy and serves approximately 500 entrepreneurs within their grids, of which 25% are women who experience significant income rises as a result.
Wateroam, an SME from Singapore, secured the 'Water' category win for its commitment to tackling the global challenge of contaminated water through portable water filters to serve disaster-hit and rural communities.
Wateroam's safe drinking water solutions are benefitting more than 150,000 people across 38 countries globally with daily access to clean drinking water and has plans to expand its reach to 1 million people over a period of five years.
The recipients of the 2022 awards in the 'Global High Schools' category are Instituto Iberia (Dominican Republic), representing The Americas; Liceo Europeo (Spain), representing Europe & Central Asia; Eastern Mediterranean School (Israel), from the Middle East & North Africa region; Sayidina Abubakar Secondary School (Uganda), representing Sub-Saharan Africa; Hira School (Maldives), representing South Asia, and UWC ISAK (Japan) from the East Asia & Pacific region.