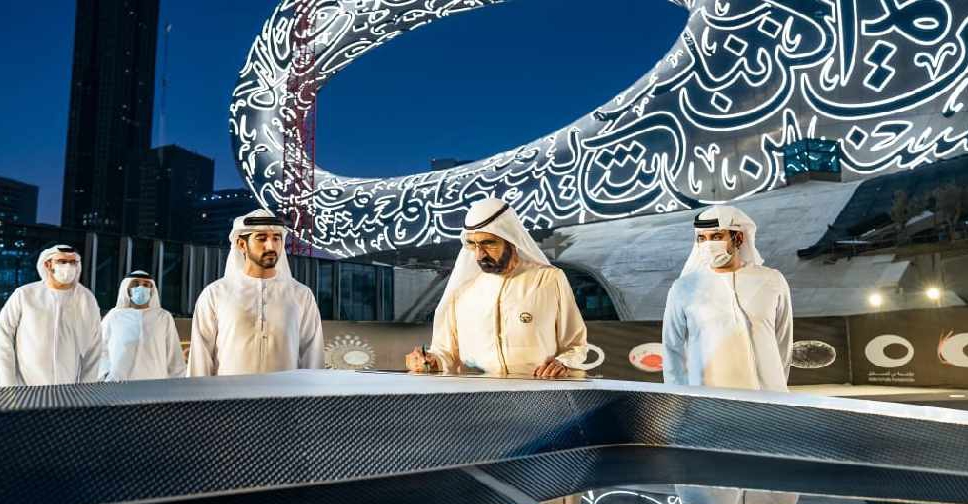 WAM
His Highness Sheikh Mohammed bin Rashid Al Maktoum, Vice President and Prime Minister of the UAE and Ruler of Dubai, says the Museum of the Future is a "universal architectural icon."
Speaking on Saturday at a ceremony to mark the start of the final phase of construction, Sheikh Mohammed also said it is a quintessential Emirati contribution to deliver a brighter future.
His Highness said Dubai will continue to deliver architectural masterpieces, noting that the museum has already gained global fame even before its opening thanks to its unique design.
"We are not after architectural wonders, but we rather seek to unleash human potential to create a better future that abounds in miracles and testifies to the remarkable achievements made by the UAE. Dubai will continue to deliver architectural masterpieces as the world continues to be in progress for those who know exactly what they want," Sheikh Mohammed added.
Located in the Emirates Towers area near Sheikh Zayed Road in Dubai, the building covers 30,000 square metres and is 77-metres high.
It has an instantly recognisable shape, with a futuristic stainless steel façade, illuminated by glazed Arabic calligraphy.
The Museum of the Future invites its visitors to look beyond the present and take their place within possible worlds to come.
Seven floors of exhibition space will showcase innovative and futuristic concepts, services, and products.
It will strive to be a place of tolerance where varied cultural, philosophical, social and spiritual outlooks are welcome.
Mohammed bin Rashid witnesses installation of final component in Museum of the Future's facade#WamNews https://t.co/2Qbd4oH2tC pic.twitter.com/HcU9MO9cB9

— WAM English (@WAMNEWS_ENG) October 3, 2020