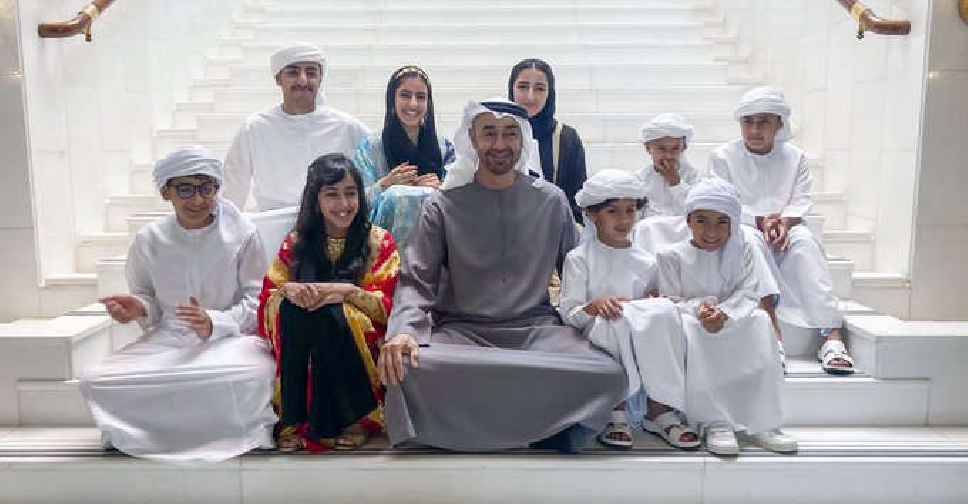 Twitter @MohamedBinZayed
His Highness Sheikh Mohamed bin Zayed Al Nahyan, Crown Prince of Abu Dhabi and Deputy Supreme Commander of the UAE Armed Forces, has posted a snap of himself, surrounded by smiling grandchildren, enjoying Eid Al Fitr.
Alongside the photo, released on Twitter, Sheikh Mohamed highlighted the importance of spending time with family.
"The opportunity to spend holidays and festive occasions with family, and especially with our children and grandchildren who remain an endless source of happiness and joy, is truly one of God's greatest gifts and a cherished aspect of our culture and heritage," he messaged.
الاحتفاء بالأعياد والمناسبات مع الأسرة قيمة عظيمة تنبض بين ثناياها كل معاني الحياة.. لا تشغلنا أعمالنا ومسؤولياتنا عن عائلاتنا وأطفالنا فهم مصدر الفرح ومنبع السعادة.. كونوا مع أسركم فهي هبة غالية منَّ الله تعالى بها علينا. pic.twitter.com/f5OTQ54tTZ

— محمد بن زايد (@MohamedBinZayed) May 3, 2022
Sheikh Mohamed shared the picture a day after hosting an Eid Al Fitr reception for the Emirates' rulers and leaders, alongside His Highness Sheikh Mohammed bin Rashid Al Maktoum, Vice President and Prime Minister of the UAE and Ruler of Dubai, at Al Mushrif Palace in Abu Dhabi.