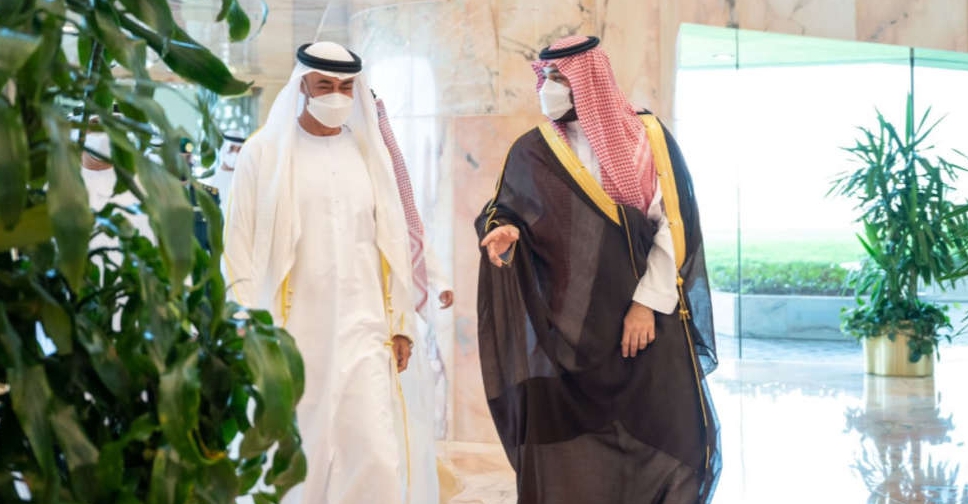 Twitter/@MohamedBinZayed
His Highness Sheikh Mohamed bin Zayed Al Nahyan, Crown Prince of Abu Dhabi and Deputy Supreme Commander of the UAE Armed Forces, has discussed ways to boost bilateral ties with the Crown Prince of Saudi Arabia on Monday.
This came as His Royal Highness Prince Mohammed bin Salman bin Abdulaziz Al Saud, Crown Prince, Deputy Prime Minister and Minister of Defence of Saudi Arabia, welcomed Sheikh Mohamed and his accompanying delegation in Riyadh today.
The leaders exchanged Eid Al Adha greetings and wished continuing development, progress and prosperity for the Islamic nation and the whole world.
They also reviewed the latest regional, Arab and international developments of mutual concern and efforts to eliminate political challenges towards achieving peace and stability.
Taking to this official Twitter handle, Sheikh Mohamed said the leaders "discussed ways to further deepen the fraternal bond and strategic cooperation between (the) nations".
"The partnership between the UAE and Saudi Arabia continues to be strong and prosperous," he added.
During our meeting in Riyadh, my brother Mohammed bin Salman and I discussed ways to further deepen the fraternal bond and strategic cooperation between our nations. The partnership between the UAE and Saudi Arabia continues to be strong and prosperous. pic.twitter.com/s3r93xAc28

— محمد بن زايد (@MohamedBinZayed) July 19, 2021