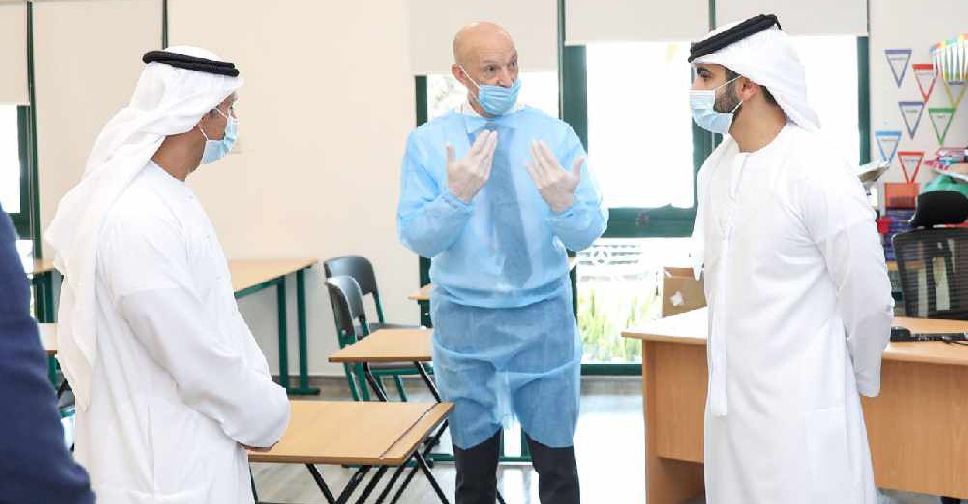 twitter/(@DXBMediaOffice)
His Highness Sheikh Mansoor bin Mohammed bin Rashid Al Maktoum, Chairman of Dubai's Supreme Committee of Crisis and Disaster Management, has visited the COVID-19 testing facility for teachers and staff ahead of reopening schools in Dubai.
Sheikh Mansoor said that the Dubai government is committed to implementing critical precautionary measures to ensure a safe start to the new academic year.
The testing facility at Jumeirah College has been fully prepared to ensure a smooth and safe screening process.
His Highness stressed that it is vital for the Knowledge and Human Development Authority (KHDA) to work closely with schools, universities and educational institutions to guarantee a safe environment.
He clarified that the KHDA must raise awareness among parents on the importance of teaching their children preventive practices.
During his visit, Sheikh Mansoor was also able to view a number of classrooms to assess the safety procedures implemented.
. @sheikhmansoor bin Mohammed visits testing facility for school staff ahead of reopening of schools in #Dubai. https://t.co/feZOTVM4XS pic.twitter.com/KBOk2ReohN

— Dubai Media Office (@DXBMediaOffice) August 27, 2020