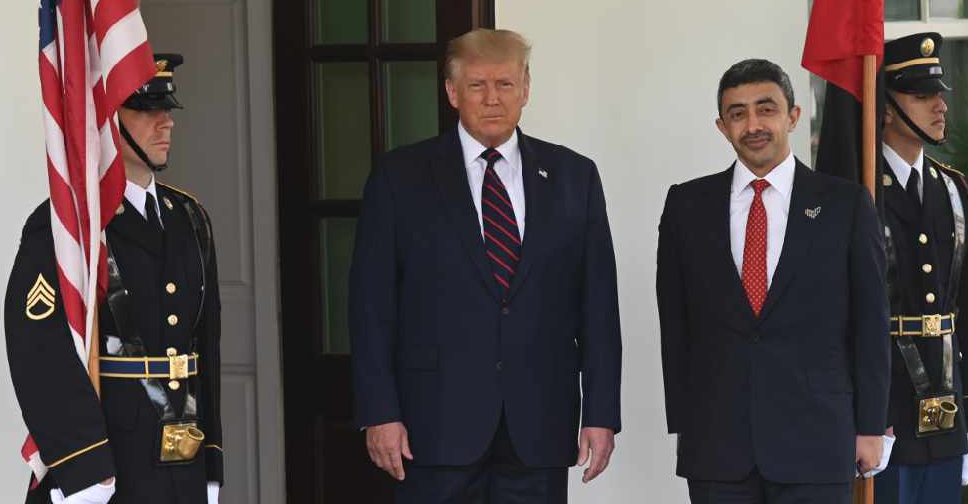 ANDREW CABALLERO-REYNOLDS / AFP
The UAE's Minister of Foreign Affairs and International Co-operation, His Highness Sheikh Abdullah bin Zayed Al Nahyan, has arrived at the White House with a high-level delegation to sign the historic peace accord with Israel.
U.S. President Donald Trump is hosting the signing ceremony, in the presence of Israeli Prime Minister Benjamin Netanyahu.
Bahrain's Foreign Minister Dr. Abdullatif Al Zayani is also in attendance to sign a separate agreement with Israel.
Shortly before the signing ceremony, Trump hosted Sheikh Abdullah in the White House Oval Office.
The U.S. President thanked Sheikh Abdullah for the UAE's push for peace. "Your country is a great country," Trump said.
The UAE foreign minister explained that the UAE wants to "attract more hope in the region" and show its people and the wider world that "there is good news."
The President of the United States of America welcomes Sheikh Abdullah bin Zayed Al Nahyan at the Oval office @WhiteHouse #OFMUAE pic.twitter.com/leuKr6ArOR

— OFM (@OFMUAE) September 15, 2020