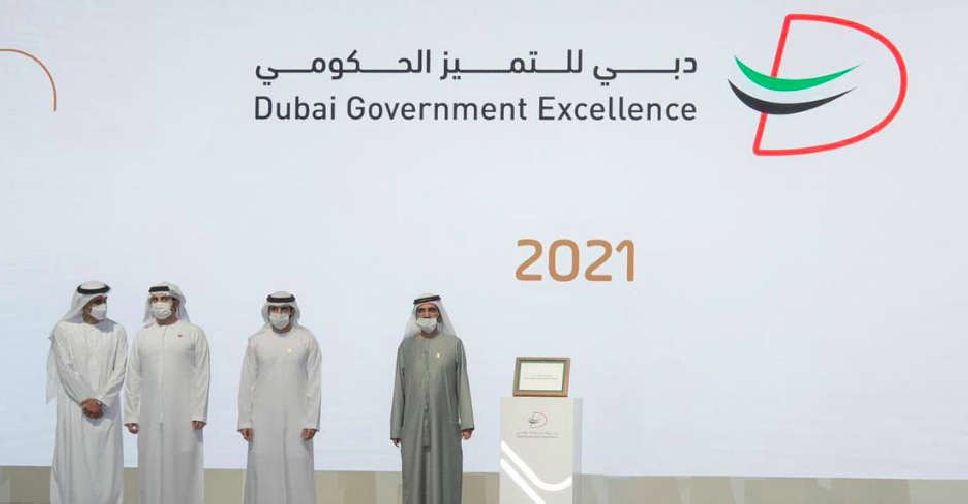 WAM
His Highness Sheikh Mohammed bin Rashid Al Maktoum, Vice President and Prime Minister of the UAE and Ruler of Dubai, has applauded winners of the Dubai Government Excellence Programme for their exemplary achievements.
Taking to his official Twitter handle, Sheikh Mohammed said the programme, over the past 24 years, has "set high global benchmarks for government excellence".
His Highness said: "Innovation within the government sector will play a crucial role in the future. The UAE and Dubai have indeed spearheaded creativity and excellence, and while we have come a long way, we must continue to innovate new approaches to further positively transform the way the government operates."
Sheikh Mohammed highlighted how "Dubai government led by both, Sheikh Hamdan and Sheikh Maktoum, has helped overcome the COVID crisis," adding that "the best is yet to come".
The winners were picked based on the results of the 2021 evaluation cycle, highlighting government entities that maintained their standards of excellence and those that made leaps to reach the Elite level.
Roads and Transport Authority (RTA), Dubai Customs, Dubai Police and Dubai Electricity and Water Authority (DEWA) won the Elite Award by scoring 600 points or more, achieving global leadership standards and maintaining their positions as the elite of the Dubai government.
Six government entities - Islamic Affairs & Charitable Activities Department, Dubai Statistics Centre, Dubai Corporation for Ambulance Services, Dubai Civil Aviation Authority, Dubai Air Navigation Services, Department of Finance, and Special Recognition - moved up the ranks from basic to excellence levels.
Here's the list of winners:
Best 'People of Determination' Friendly Entity: Dubai Police General Command
Best Entity in Emiratization: Dubai Electricity and Water Authority
Best Entity in Service Provision: Dubai Airports
Best Entity in Digital Government: Public Prosecution Dubai
Happiest Work Environment: Dubai Courts
Winner of the Best Entity Achieving Dubai Plan 2021, Best Entity in Efficiency and Governance, and the grand award Leading Government Entity is the General Directorate of Residency and Foreigners Affairs
The programme also paid special mention of the efforts of the Supreme Committee for Emergency, Crisis and Disaster Management and COVID-19 Command and Control Centre for helping the nation fight COVID-19 and resume to "normalcy".
Reem Al Hashimy, Sami Al Qamzi, Abdulla Al Shaibani, Dr. Ahmed Al-Nuseirat and Professor Mohamed Zairi also received recognition for their contributions in various sectors.