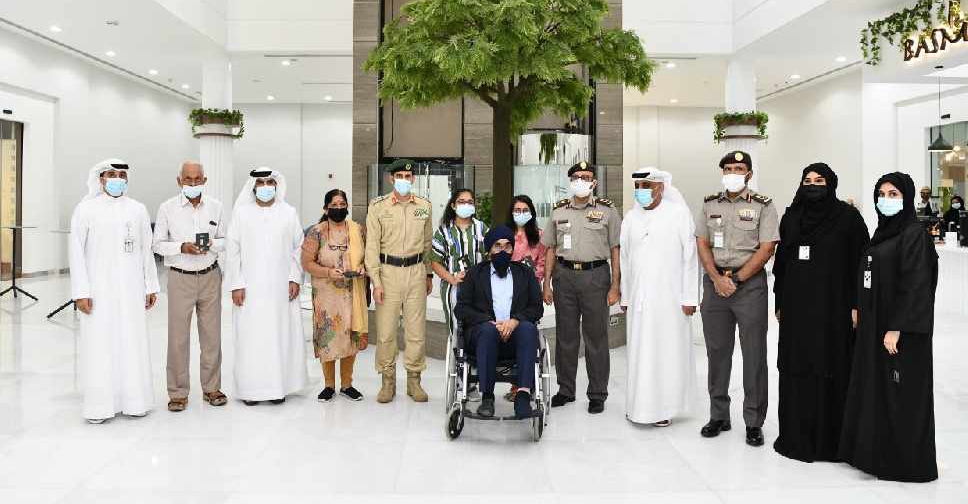 Supplied
Two young Indian girls who lost their parents in a 'criminal incident' have been granted the 10-year Golden Visa.
Their grandparents have also been issued the long-term residency visas.
The visas were handed over by Lieutenant General Abdullah Khalifa Al Marri, Commander-in-Chief of Dubai Police, and Major General Mohammed Ahmed Al Marri, Director-General of Dubai's General Directorate of Residency and Foreigners Affairs (GDRFA).
Dubai Police announced that the sisters have also been awarded full scholarships (Canadian University Dubai and Repton School Dubai) as well as accommodation along with their grandparents.
"Granting the two golden visas to the orphan sisters is in line with the humanitarian approach embraced by the UAE's wise leadership to ensure the happiness of all community segments in the UAE, as a haven of happiness to all community members," said Lieutenant General Abdullah Khalifa Al Marri.
"Dubai Police was keen to follow the humanitarian situation of the girls through the Victim Support Programme at CID, which culminated today in realising their happiness and providing them with a family environment along with their grandparents in the Emirate of Dubai," he added.
Meanwhile, Major General Mohammed Ahmed Al Marri said, "This initiative is part of the community and human-centred efforts made by GDRFA in collaboration with Dubai Police to exemplify the values of good in the UAE society and entrench our traditions to achieve prosperity and stability for both Emirati citizens and expatriate residents."
#أخبار | الإمارات تمنح فتاتين يتيمتي الأبوين وجديهما إقامة ذهبية ومنح دراسية كاملة التكاليف

التفاصيل:https://t.co/PsAMmy2BPM#أمنكم_سعادتنا#الجميع_مسؤول#نتواصل_ونحمي_نبتكر_ونبني pic.twitter.com/13sCmO924N

— Dubai Policeشرطة دبي (@DubaiPoliceHQ) November 23, 2020