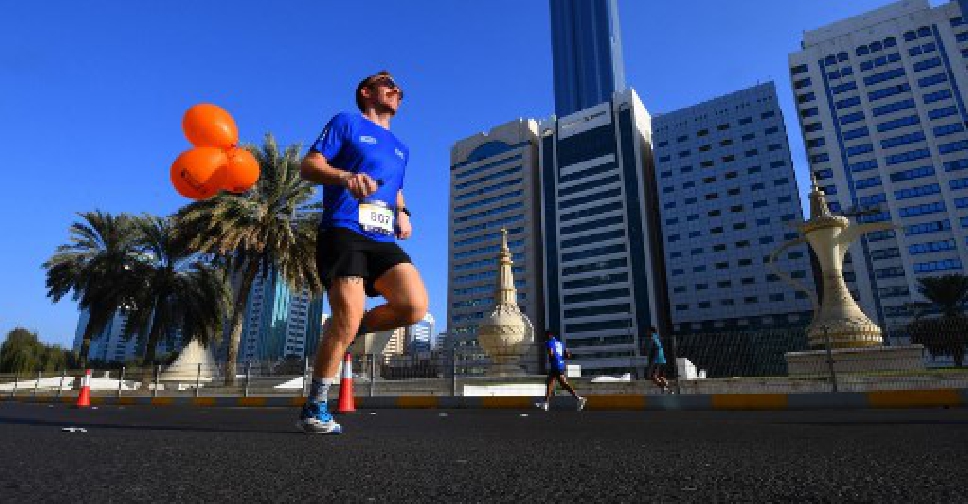 GIUSEPPE CACACE / AFP
Sporting events including running, cycling, open-water swimming, marine and triathlon can resume in the capital, but under specified safety measures.
No spectators will be permitted, while participants need to vacate the site as soon as they have finished.

Some of the measures outlined include:
• Register for events through the Abu Dhabi Sports Council website
• Allocate a separate entrance and exit for the event
• Designated area for collecting medals
• Those that cannot participate include children under 12, adults over 60 and people with chronic diseases
• All participants must take a Covid-19 test
• No shaking hands between participants / organisers
• Participants bring own water bottle(s)
• Designated pick up location for collecting sport kits, devices or equipment used in events
• Participants receive race numbers 72 hours before the start of the event. Entrants arriving from outside Abu Dhabi collect race numbers on the day by presenting their e-mail verification of registration.
• Separate start and finish line
Continuous cleaning and sterilsation of all areas and facilities must be conducted throughout the event venue, as well as temperature checks conducted at entrances, and face masks and gloves should be worn.

Physical distancing of two meters must also be maintained, and identified throughout the venue with spacing marker stickers.
.@AbuDhabiSC has issued precautionary measures for community sports events in #AbuDhabi, including running, cycling, open-water swimming, marine and triathlon activities. pic.twitter.com/KUBdaiu13C

— مكتب أبوظبي الإعلامي (@admediaoffice) October 9, 2020
Measures include registering for events through the Abu Dhabi Sports Council website, allocation of a separate event entrance and exit, and a designated area to collect medals. Children under 12, adults over 60, and people with chronic diseases may not participate. pic.twitter.com/KwAXU9CYPG

— مكتب أبوظبي الإعلامي (@admediaoffice) October 9, 2020

October 9, 2020