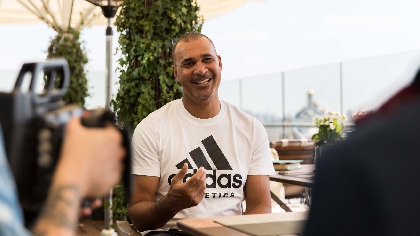 Dutch football legend Ruud Gullit has outlined exactly why football is failing to properly address racism within the game in an exclusive interview with Off Script on Dubai Eye 103.8.
The 57-year-old former Ballon D'Or winner says it is only when the game's influential figures speak out, that the authorities sit up and take notice, adding that complaints made by black players are largely ignored.
During a candid discussion on the increasing incidents of racist abuse both online and at stadiums, Gullit also defended Italian fans, who made headlines recently for directing monkey chants at Romelu Lukaku during Inter Milan's match at Cagliari on September 1.
Gullit, who played for AC Milan between 1987 and 1994, echoed the claims made by Inter Milan's fans over the last 24 hours, that the chants amount to gamesmanship and are in fact a mark of respect.
And he is quick to point out that while racism is by no means confined to football, the mob mentality that exists within the game has exacerbated it.
"This is not only an issue in football. This a plague in society," the two-time European Cup winner told Off Script. "When things aren't going well people always try and find a scapegoat. And they always point the finger at someone who is in the minority.
"It's very ignorant to do so, but when people gather around in groups, all of a sudden this [racism] comes out. When you talk to them individually, they probably don't have an issue."
Gullit went on to highlight what he believes is the crux of why significant progress to combat racism is not being made.
Gullit on tackling racism
"It's like cancer. The problem with this is that when a black person talks about it, everyone shrugs their shoulders 'oh, here's another one who feels attacked or feels this and that'.
"If someone important, a white person talks about it and says 'this has to stop' then more people will talk about it and take action.
"The same thing happened with #MeToo, when women all the time talked about themselves, people after a while say hey 'always thinking ah, you're in the minority'.
"But therefore someone opposite says something about it, for example, Zinedine Zidane, all of a sudden people will listen and say 'this is not good'.
"That's one thing. But of course, the authorities FIFA and UEFA need to take a stand, and to say what to do when this happens. Do we ignore it? What is the best thing to do?"
Meanwhile, recalling his time spent playing in Italy, Gullit was quick to defend Italian fans.
Ruud Gullit on racism in Italian football
"People had issues because we were good. Of course, they are going to direct abuse at you, but I didn't see it as personal, I saw it as them wanting to put me off my game.
"The funny thing was that when we played, after the game, they always applauded us.
"For me, to see these things, it's a little bit odd for Italy. I know the country has issues among themselves between north and south, but in my time, they were abusing you, but just to put you off, and afterwards, they'd applaud you.
"It surprises me because I have a very good memory of Italy. I love Italy. The style and the way Italian people are."