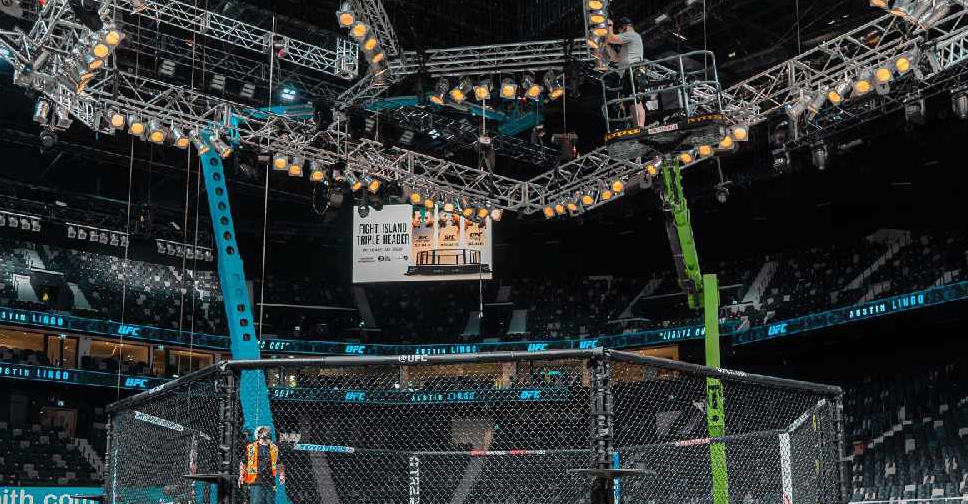 Preparation continue inside the UFC Fight Island Triple Header Octagon at Etihad Arena in Abu Dhabi. SUPPLIED
The third installment of UFC Fight Island in the space of seven months kicks off in Abu Dhabi on Saturday January 16. headlined by a featherweight bout between No. 1 ranked Max Holloway and No. 6 ranked Calvin Kattar.
It is the inaugural event at the Etihad Arena, Abu Dhabi's latest world-class entertainment venue.

It is the first of three mega UFC events in seven days on Abu Dhabi's Yas Island.

Wednesday January 20 will see another stacked fight card for UFC FIGHT NIGHT: CHIESA vs. MAGNY before a gripping series finale on Sunday January 24 with UFC 257: POIRIER vs. MCGREGOR – the Middle East debut of fan favourite Conor McGregor in a lightweight rematch with Dustin Poirier.

تتواصل الاستعدادات في الاتحاد أرينا لاستضافة فعاليات النسخة الثالثة من جزيرة النزال من UFC في 16 و 20 و 24 يناير، مع تطبيق مفهوم المنطقة الآمنة حرصاً على صحة وسلامة المشاركين والجمهور. pic.twitter.com/isO3HO9Myb

— مكتب أبوظبي الإعلامي (@admediaoffice) January 15, 2021

According to experienced MMA broadcaster Jon Anik, the event which marks the return of live public events in Abu Dhabi, reaffirms the Emirate's status as the new international fight capital of the world.

"The embrace that we have gotten from this region is so special that it gives me chills just talking about it," said Anik, who will be Octagon side in the Etihad Arena broadcasting the fights live for ESPN throughout the series.

"I think I am probably more excited than anybody on our live production team to have fans back in the building. For the big fights, you really want to have a crowd. I can't wait to have that support especially for Conor McGregor and Dustin Poirier fight at the end of the week," he added.

"This place gets my blood flowing, and this feels a lot like the new fight capital of the world. It feels like the safest place in the world to be doing live sporting events right now and it is great to be back here for sure.

UFC lightweight fight Paul Felder who is on Fight Island as part of the broadcast team, echoed Anik's thoughts, marveling at Abu Dhabi's meteoric rise as the combat sports capital of the world.

"Well, I mean this is the fight capital for us. All our big fights are happening here and in Vegas. This is my third time on Fight Island, and you know we are in a very safe bubble here, so this is the one place I actually feel comfortable roaming around," he said.

UFC Fight Island Triple Header continues on Wednesday, January 20, with another high-octane clash with Michael Chiesa facing Neil Magny in a highly anticipated welterweight main event.