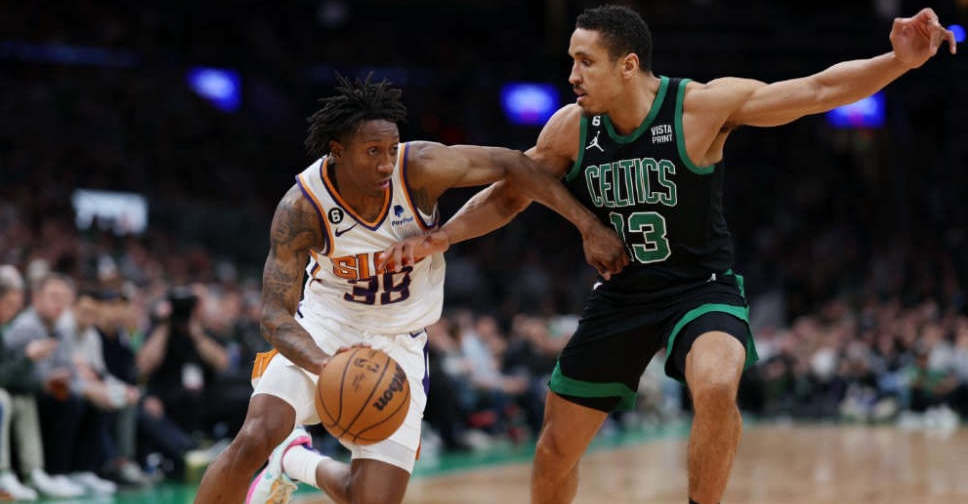 Maddie Meyer/Getty Images via AFP
Despite having a thin bench, the Phoenix Suns used a strong fourth quarter to pick up a 106-94 road win against the Boston Celtics.
The Celtics outscored the Suns 29-17 in the third quarter and trailed 74-73 with 12 minutes to play, but Phoenix began the fourth with a 14-2 run. The Celtics never got closer than six points the rest of the way.
Magic 127, Wolves 120
Cole Anthony came off the bench to lead seven Orlando scorers in double-figures with 20 points, and the Magic rode a dominant second half to a 127-120 win over the Minnesota Timberwolves
Pistons 118, Hornets 112
Jaden Ivey had 24 points and seven assists, and Saddiq Bey contributed 22 points, including a go-ahead 3-pointer in the late going, as host Detroit downed Charlotte.
Raptors 117, Rockets 111
Fred VanVleet and Gary Trent Jr. caught fire in the middle two periods as Toronto rallied from an early double-digit deficit to top host Houston.
Hawks 115, Jazz 108
Trae Young responded to not being named an All-Star by scoring 27 points and De'Andre Hunter added 26 points to lift Atlanta to a victory over Utah in Salt Lake City.
Pacers 107, Kings 104
Buddy Hield dropped a team-high 21 points on his former team and Indiana took advantage of the absence of De'Aaron Fox to hold off Sacramento in Indianapolis.
Trail Blazers 124, Wizards 116
Anfernee Simons scored 20 of his 33 points in the third quarter, helping visiting Portland overcome a 20-point deficit in a victory over Washington.
76ers 137, Spurs 125
Joel Embiid poured in 33 points and grabbed 10 rebounds as visiting Philadelphia swamped reeling San Antonio.