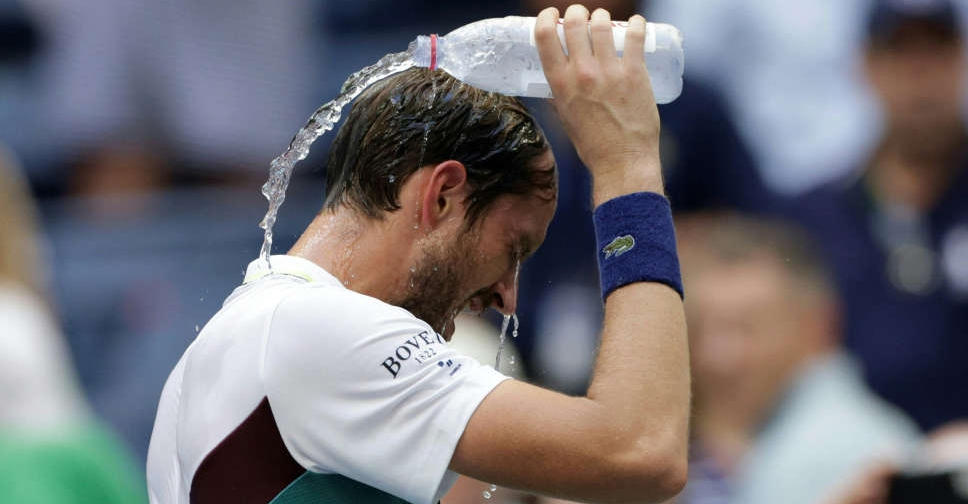 AFP
Daniil Medvedev overcame suffocating heat and humidity to win his US Open quarter-final on Wednesday and said it could have been "dangerous" if the three-set match had gone on much longer.
Medvedev and fellow Russian Andrey Rublev were so drenched in sweat it looked like they had been dunked in the nearby Hudson River amid a punishing heat wave gripping New York.
"We left everything out there," said Medvedev, who claimed the 6-4 6-3 6-4 win in just under three hours.
"The thing is that even if it would go further, we would still leave even more... and the only thing that is a little bit, let's call it dangerous, is the question of how far could we go?
"Maybe we could go five sets and it would be 'fine,' yeah, we would struggle a little bit next day and it would be fine.
"Or we have a person in Yibing Wu who fell down in Washington."
The 23-year-old Wu collapsed on the court amid oppressive heat during the first set of his match at the Washington Open in late July, forcing the Chinese player to retire from the contest in a scary scene.
The US Open this year has experimented with partially closing the roofs of their stadiums to provide more shade during day matches but unlike the Australian Open, has no policy allowing for the suspension of play due to extreme heat.
Medvedev said he doesn't have the answers but wanted to be on the record as saying he was concerned.
"Probably we cannot stop the tournament for four days because... then it basically ruins everything, the TV, even the tickets," said Medvedev, the tournament's third seed and 2021 champion.
"Could we go to three sets when the conditions are like this? Also, some guys are not going to be happy.
"I don't have real solutions but it's still better to speak a little bit about it before something happens."