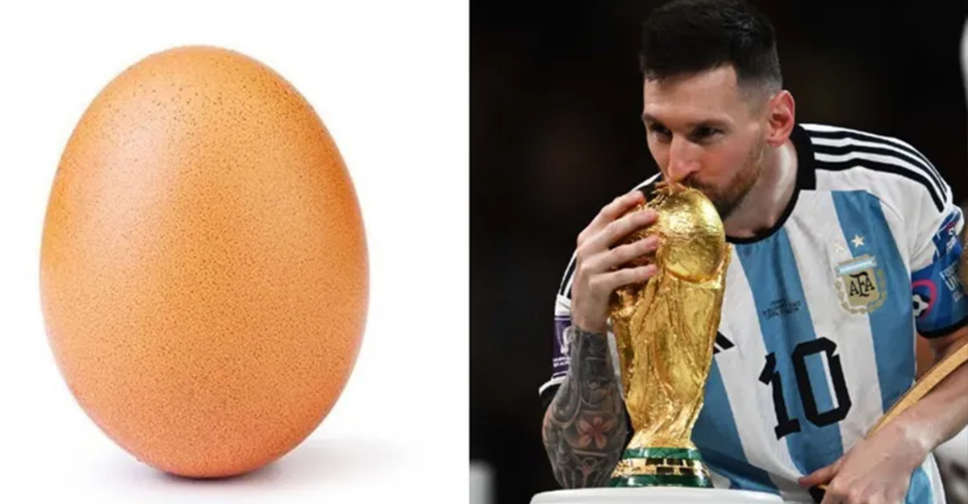 Source: Instagram
The GOAT has now beaten the egg. Lionel Messi's Instagram post after winning the World Cup has become the most liked ever with over 68 million likes dethroning the viral picture of an egg which garnered more than 55 million likes.
Messi had taken to Instagram to thank his fans in Argentina for their support. The post had several pictures of Messi lifting the trophy at the Lusail stadium after Argentina beat France on penalties to win the coveted cup after 36 years.
The post by Messi has surpassed 68 million likes:
"CHAMPIONS OF THE WORLD!!!!!!! So many times I dreamed it, so much I wanted it that I still don't fall, I can't believe it…… Thank you so much to my family, to all who support me and also to all who believed in us.
"We prove once again that Argentinians when we fight together and united we are able to achieve what we aim.
"The merit is of this group, which is above individuals, is the strength of all fighting for the same dream that was also the one of all Argentinians… We did it!!! LET'S GO ARGENTINA!!!!"
While many believe this was Messi's last World Cup, he hasn't ruled out continuing to play for the national team for a few more years.
Messi's sensational form saw him break several records at the tournament:
Most Man of the Match awards won at the FIFA World Cup: 11
First person to assist at five different FIFA World Cups
Most FIFA World Cup matches played by a player: 26
Most FIFA World Cup appearances as captain: 19
Most appearances in FIFA World Cup tournaments by a player (male): 5
The Argentina captain also scored in each stage of the tournament in Qatar, truly becoming the driving force behind the team's ultimate triumph.
Before the World Record Egg had the most liked post on Instagram, influencers Kylie and Kendall Jenner both held this record, as well as Kim Kardashian and Beyoncé.
A timeline of Instagram's most liked image has not featured sports stars till Messi.
In 2014, Will Smith and Justin Bieber jointly set the record with 1.5 million likes. The same year Kim Kardashian and Kanye West took the title with 2.4 million likes with their wedding photo.
In 2015, Kendall Jenner broke the record with 2.6 million likes, which continued to rise to 3.5 million.
It then took two years for a new image to receive that sort of global acclaim with Beyoncé Knowles-Carter's announcement of her pregnancy with Sir and Rumi Carter getting over 7.3 million likes in 2017.
It was dethroned in 2018 when Kylie Jenner's photo of her newborn daughter Stormi received over 18 million likes.