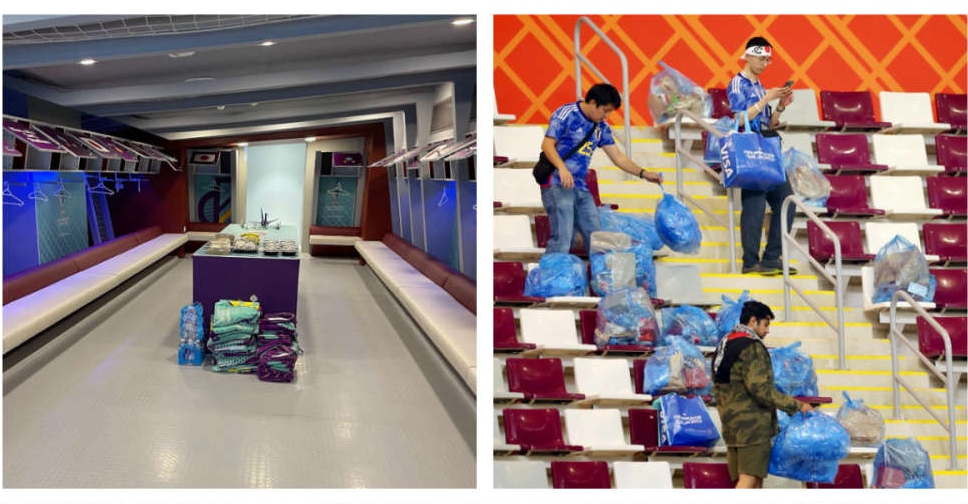 Japanese courtesy was on full display again at the World Cup when the national team left their dressing room spotless with an extra touch of kindness after their 2-1 comeback win against Germany on Wednesday.
While teams often leave the changing room in a messy state after wild celebrations, Japan's players folded their training vests and, for good measure, left paper cranes on the table.
Japan fans also coordinated to clean up their rubbish in the stands at the Khalifa Stadium - an initiative witnessed at every game of their national team.
"After a historic victory against Germany on Match Day 4, Japan fans cleaned up their rubbish in the stadium, whilst the @jfa_samuraiblue (national team) left their changing room at Khalifa International Stadium like this. Spotless," world governing body FIFA said with a picture of the immaculate room, with the floor appeared to have been swept as well.
A thank you note in Arabic and Japanese was also left on the table.
After an historic victory against Germany at the #FIFAWorldCup on Match Day 4, Japan fans cleaned up their rubbish in the stadium, whilst the @jfa_samuraiblue left their changing room at Khalifa International Stadium like this. Spotless.

Domo Arigato.👏🇯🇵 pic.twitter.com/NuAQ2xrwSI

— FIFA (@FIFAcom) November 23, 2022
It's not only three points that Japan have in the bag.

After their amazing win at the #FIFAWorldCup, @jfa_samuraiblue supporters stayed behind to help collect plastic bottles and clean up the stadium. ❤️#Qatar2022 | #SaveThePlanet

— FIFA (@FIFAcom) November 23, 2022