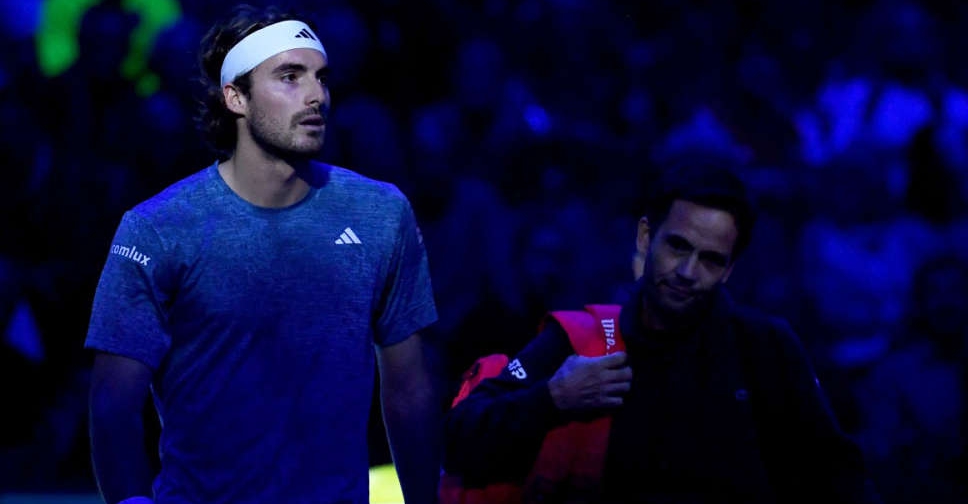 Stefanos Tsitsipas retired after just three games of his Green Group clash against Holger Rune at the ATP Finals on Tuesday, handing the Danish debutant his first victory in the event.
Greek world number six Tsitsipas looked stiff and uncomfortable as he trailed 2-1 and after consulting with a doctor at the changeover he decided that he could not continue.
Tsitsipas, who lost in straight sets to Jannik Sinner in his opening match on Sunday, shuffled off the court to a few jeers from the large crowd inside the Pala Alpitour and later confirmed it was a problem with his back.
As a consolation for the ticket holders, alternates Taylor Fritz and Hubert Hurkacz were due on court to play an exhibition match, although it will not count for the tournament.
"I'm really gutted that I wasn't able to finish the match. It's a shame also not to give that spot to someone else to at least try and do something with it," Tsitsipas said.
"My doctors and the countless visits that I had in the past few days suggested that I play, gave me the green light to go and try it for myself. Unfortunately, I felt terrible on the court. I did what I could do to be ready and fit for this match, but it didn't work out for me."
Had Tsitsipas withdrawn before the match, first reserve Hurkacz would have played Rune in a live match with the Pole still having a chance to progress in the tournament.
"I hate retiring from matches," added Tsitsipas, who claimed the biggest title of his career at the event in 2019.
"I'm not the kind of person that likes leaving mid match. It kills me not to be able to finish this tournament. But this is tennis. This is not darts. For me, it's important to be fit and feel good with my back. The pain was very big."
He also pulled out injured in 2021.
Rune, who lost to world number one Novak Djokovic in his first match on Sunday, will now face Sinner in his final round-robin match still with a chance of reaching the semi-finals.