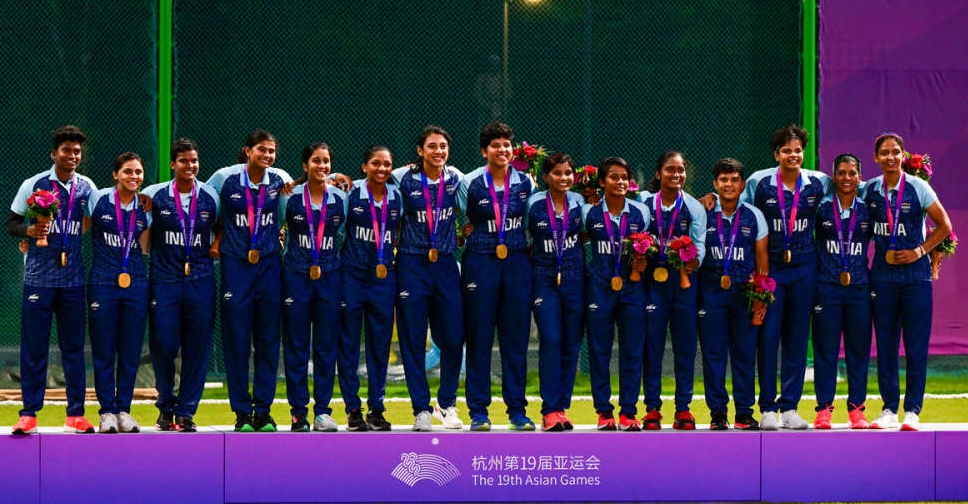 India won their first golds and North Koreans stirred up drama by snubbing their South Korean rivals on the podium on day two of the Hangzhou Asian Games on Monday.
Some 12,400 athletes from 45 nations are competing for 481 gold medals in 40 sports at the Games in the eastern Chinese city, which were delayed by a year due to COVID-19 measures.
India's first gold came in the men's 10 metre air rifle team before their women's cricketers beat Sri Lanka by 19 runs to clinch a second gold, the country's first in cricket since the sport joined the quadrennial Asian Games in Guangzhou in 2010.
Earlier the Bangladesh women's cricket team beat Pakistan in the bronze match to claim the country's first Asian Games medal since 2014 at Incheon, South Korea.
Cricket, which has hopes of becoming an Olympic sport, returned to the Asian Games this year after being omitted from the last edition in Indonesia in 2018.
Esports, which is huge in China, is a medal event at the Asian Games for the first time and the participation of Lee Sang-hyeok - known by his gaming handle 'Faker' - has given the competition's profile a big boost.
The South Korean did not disappoint his legions of fans on Monday, helping his team beat Kazakhstan 1-0 in one of the preliminary matches in the 'League of Legends' category.
Elsewhere on day two of competition, three North Korean marksmen refused to join their South Korean rivals in a group photo of medal winners after narrowly missing out on gold in a men's team shooting competition.
China picked up golds in artistic gymnastics, swimming, skateboarding, taekwondo, mountain biking, fencing, wushu, shooting and rowing.
But Uzbekistan stole some of their thunder by pipping the hosts to gold in the men's four and women's single skulls.
The single skulls winner, Anna Prakaten, came into the event with some pedigree having won silver at the Tokyo Olympics in 2021 while representing the Russian Olympic Committee.
Another who upset China's party was Thailand's Panipak Wongpattanakit who leapt for joy after beating local fighter Guo Qing 2-1 in a tight and dramatic contest in the women's -49kg taekwondo final.
It was Thailand's first gold of the Games and triggered a roar of delight from several Thai journalists watching in the Games' media centre.
"My dad and my whole family are very happy," said Olympic and former world champion Wongpattanakit following a fight that included a delay in the final round while officials debated a points decision and a late comeback to snatch the victory.
In the pool several Games records tumbled including the women's 200m freestyle where Hong Kong's Siobhan Bernadette Haughey won in one minute 54.12 smashing the previous mark by over two seconds but shy of her Asian record at the Tokyo Olympics.
"I guess I was hoping for a little faster time, but it's not too far off my best time, so I'm still happy with it," she said.
The youngsters stole the show at the skate park, including nine-year-old Mazel Paris Alegado from the Philippines, who is reported to be the youngest athlete at the Games.
"It was really fun," she said after her seventh-placed finish in the women's park, an event won by Japan's Hinano Kusaki. "I'm really proud that I got here."
China has pulled out all the stops to ensure a smooth event, its first major sporting competition since the country ended its "zero-COVID" policy in late 2022.