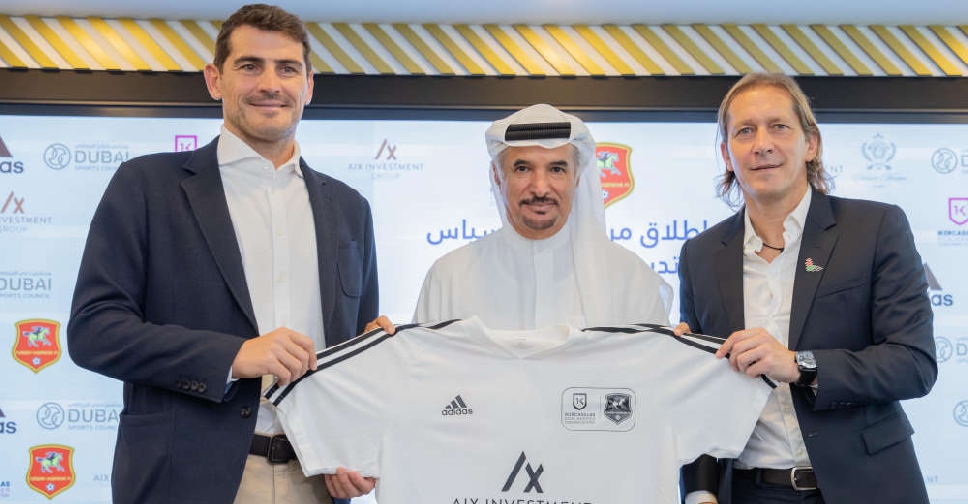 Twitter/(DXBMediaOffice)
Spain and Real Madrid's legend goalkeeper is launching his debut center for goalkeepers in Dubai.
Iker Casillas established the center in partnership with Dubai's Fursan Hispania FC.
The 'Iker Casillas Goalkeeper Training Centre' is dedicated to enhancing the skills of aspiring young goalkeepers from the UAE and the region

His Excellency Saeed Hareb said: "The launch of the 'Iker Casillas Goalkeeper Training Centre' in Dubai is great news for young goalkeeping talents and coaches from not just the UAE but around the region. The programme has been developed by one of the finest goalkeepers in football history – a legend who has won a World Cup (2010) and two European titles (2008 and 2012) as captain of Spain, and numerous other titles in a long and illustrious career with his club Real Madrid, both at home and on the continental stage. Casillas has a few equals in football history, and the fact that he has chosen Dubai to launch this specialised programme for goalkeepers reaffirms Dubai's position as one of the world's leading centres for the development of sports talent and coaches, and the preferred destination for investment in the sports sector."
The Centre will offer three different products tailored to suit different needs – a Weekly Programme, a Programme for Goalkeeping Coaches and a more comprehensive Fursan Goalkeeping Implant Programme.
Fursan Hispania will also scout for the best goalkeeping talents from the UAE and the region, and recommend them for a full-boarding program at the Iker Casillas Academy in Madrid, Spain.
Spain and Real Madrid legend @IkerCasillas chooses #Dubai to launch his debut training centre for goalkeepers outside of Spain called the 'Iker Casillas Goalkeeper Training Centre'.https://t.co/xOkSro2wme pic.twitter.com/M3sID7Qg5R

— Dubai Media Office (@DXBMediaOffice) September 8, 2021