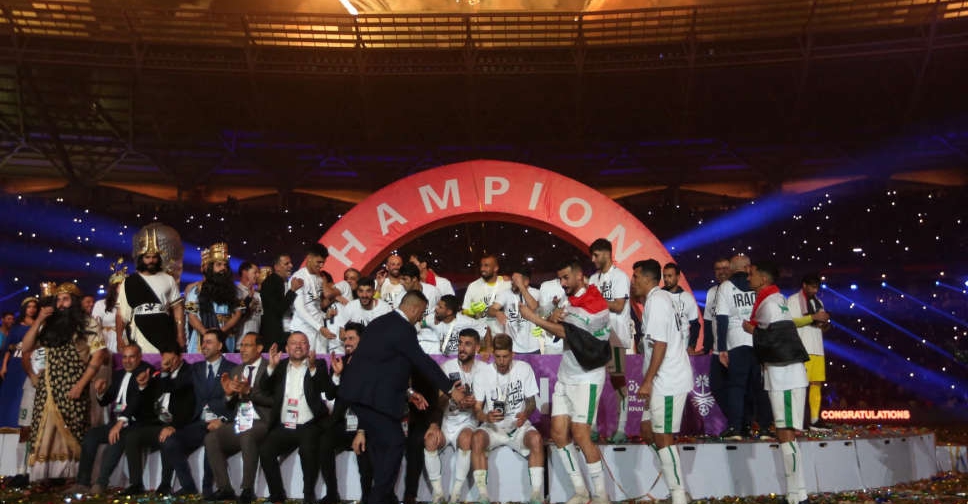 HUSSEIN FALEH/ AFP
His Highness Sheikh Mohammed bin Rashid Al Maktoum, Vice President and Prime Minister of the UAE and Ruler of Dubai, has congratulated Iraq who won the Gulf Cup, beating Oman 3-2 on Thursday.
"Today we are all Iraqis in sharing the joy... Today we are all Iraqis in victory," said Sheikh Mohammed who shared his congratulations on Twitter.
"Congratulations on the Arabian Gulf Cup, to our family and loved ones... And thank you to the people of Basra and the people of Iraq for the well-organised event," he added.
فرح العراق اليوم بعد طول صبر وانتظار وفرحت معه الشعوب والقلوب ..كلنا اليوم عراقيين في الفرحة.. كلنا اليوم عراقيين في الانتصار ..مبروك كأس الخليج العربي يا أهلنا وأحبابنا .. وشكراً أهل البصرة وأهل العراق على حسن التنظيم والاستضافة .. pic.twitter.com/X6SfEOebqp

— HH Sheikh Mohammed (@HHShkMohd) January 19, 2023
Substitute Munaf Younus scored the winner in the 122nd minute to help Iraq overcome Oman in the final at Basra International Stadium.
It was their first Gulf Cup win since 1988 but the victory was overshadowed by a deadly stampede outside the stadium that killed at least two people and injured dozens on Thursday.