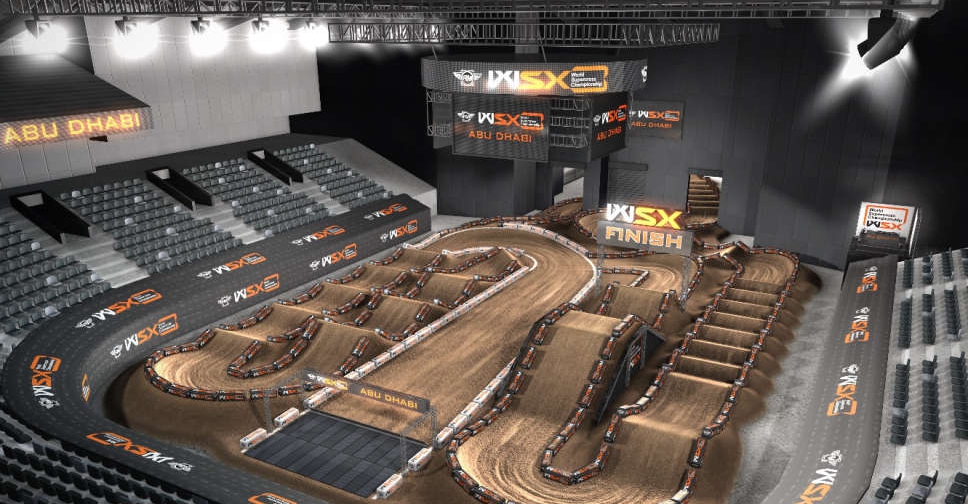 As the world's best supercross riders descend on Yas Island for the FIM World Supercross Abu Dhabi Grand Prix on Saturday, November 4, Etihad Arena is set to undergo its transformation into a supercross track for the first time.
Around 7,000 tonnes of dirt, which has been locally sourced in the UAE, will be trucked into the Middle East's largest indoor entertainment venue via 400 truckloads for a night of adrenaline and thrills.
WSX tracks are designed to deliver high quality racing and allow opportunities for the riders to go faster, push harder and deliver a high level of excitement and competitiveness for fans.
"The success of an event like this, where we are completely transforming a venue, relies on flawless event operations, with every detail from track construction to logistics being carefully orchestrated in collaboration between our local team at Ethara and the track design team at World Supercross from start to finish," said Salem Al Sulaimani, Event Operations Director at Ethara.
The entire transformation process, from turning a clean venue into a finished racing track, will take approximately four days, involving 16 different forms of earth moving machinery such as excavators, dozers, and street sweepers.
The dirt used is clay-based, carefully selected to adhere to safety regulation while providing the ideal composition for the supercross track.
Spectators can witness the world's top riders battle it out on a track that promises nothing short of jaw-dropping action and excitement. Limited WSX Abu Dhabi GP tickets are still available, starting at 110 AED for the day.
3 DAYS TO GO! #WSX 🇦🇪

📍Etihad Arena, Yas Island, Abu Dhabi UAE
4th November // FIM World Supercross Championship #AbuDhabiGrandPrix#Ethara#MomentsThatMatter#InAbuDhabi #FIM #WorldSupercrossChampionship #Supercross pic.twitter.com/3e431qWujS

— WSXChampionship (@WSXChampionship) November 1, 2023
Key highlights of the Etihad Arena Supercross track include:
Unique two row start gate
The start of a supercross race is a pivotal moment. The Abu Dhabi Grand Prix will see a dual row start, with ten riders on the front and ten on the rear, a departure from the standard 20-wide configuration.
A rider's start will be of paramount importance, making qualifying and gate picks more critical than ever. The top ten riders at the front will enjoy a distinct advantage over those behind them.
In a sport where every inch matters, the Abu Dhabi race and its unique two row start gate promises extreme action.
Rhythms
The Etihad Arena track will boast several rhythm sections, composed of multiple jumps strung together, allowing riders various line choices based on personal preference, experience, split-second decision making, and strategic moves inspired by their competitors on the day.
Triple jump
The most significant jump on the track at Etihad Arena, known as the "Triple", comprises three jumps that riders must clear in a single leap, covering an approximate distance of 70 feet. A miscalculation here could make or break a rider's performance.
Whoops
The whoops section presents a long stretch of small, evenly spaced bumps, creating a rolling sensation.
Fans will watch on nervously as the WSX riders navigate this section at breakneck speeds, testing their balance, control, and timing. Success here can lead to valuable seconds gained, but even a slight error can result in a significant loss of speed and control.
Outside section
A distinctive part of the track, looping outside of the Etihad Arena in a first for the venue, the outside section offers two tight rhythm sections with corners that promise exciting passing opportunities, but also pose high risks for errors.
Upon re-entering the arena, riders face a challenging wall jump, followed by a split s-bend that presents two distinct line choices. The riders then tackle the rhythm section once more before crossing the finish line.
Finish line double
Serving as the finish line at Etihad Arena, the "finish line double" is a critical part of the track. While it may seem straightforward, it offers passing opportunities in the corners before and after, rewarding riders with exceptional skill and precision.