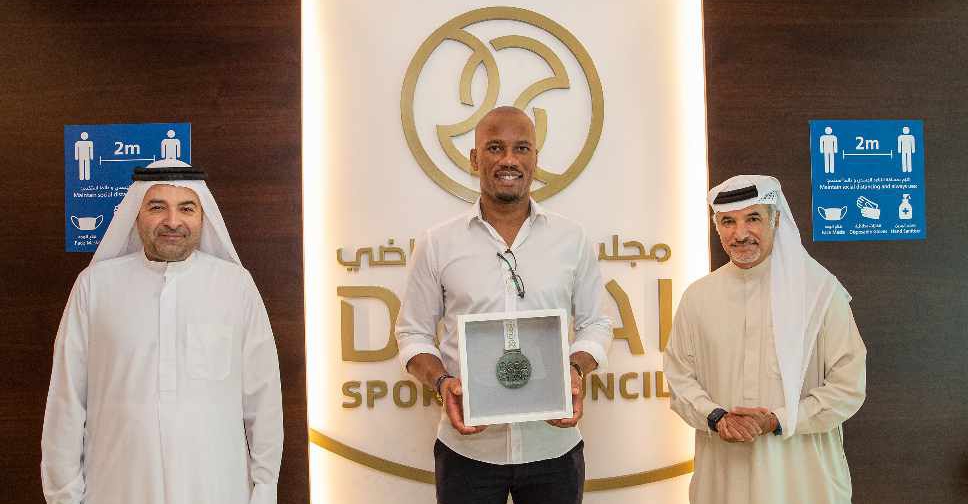 Supplied
Former Chelsea and Ivory Coast footballer Didier Drogba has been presented with the 'Medal of First Line of Defence' by the Dubai Sports Council.
It is in appreciation of his support for the Council's 'Be Fit, Be Safe' campaign.
Saeed Hareb, Secretary-General of Dubai Sports Council, received Drogba at the Council's headquarters, in the presence of Assistant Secretary-General Nasser Aman Al Rahma.
They discussed a number of projects and initiatives where the Ivorian is keen to collaborate with the Council and invest in Dubai's growing sports sector.
"First, it is a place I have been coming to since 2004, and second, the people here are really friendly and welcoming, and have even become my brothers. Also for the quality of life, for the kids, for the security and for the overall quality," said Drogba.
"The development here has also been amazing and I want to congratulate Dubai's leadership for all their efforts to make sure people live here happy and in a safe place," he added.
His Excellency Saeed Hareb, Secretary General of the Dubai Sports Council, received "Didier Drogba", the former star and scorer for Chelsea FC and the Cote d'Ivoire national team, in the presence of Nasser Aman Al Rahma, Assistant Secretary General, pic.twitter.com/2p8pSXmyat

— Dubai Sports Council (@DubaiSC) November 18, 2020