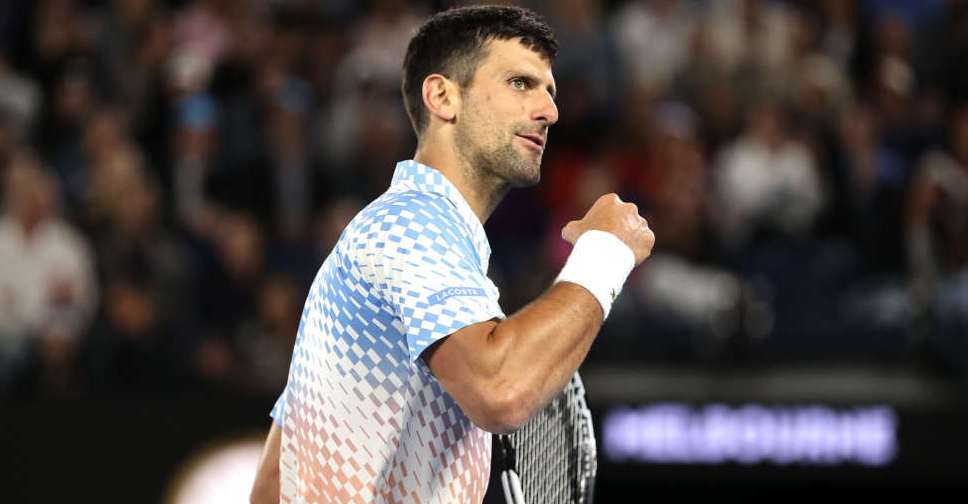 MARTIN KEEP/ AFP
Novak Djokovic had to dig deep at times against French qualifier Enzo Couacaud but rolled into the third round of the Australian Open on Thursday.
The Serbian registered a 6-1 6-7(5) 6-2 6-0 win to continue his quest for a 10th crown at Melbourne Park and a 22nd Grand Slam title.
Djokovic looked at his imperious best as he eased through the opening set but hit a roadblock in the 74-minute second when world number 191 Couacaud upped his pace and intensity to level up the contest in a tiebreak.
The fourth seed changed his shirt and brought in the heavy artillery to whip through the final two sets, setting up a third-round date with Bulgarian Grigor Dimitrov.
"Enzo deserves credit for the fight, he played some great tennis, especially in the second set, he deservedly pushed the match into the fourth set," said Djokovic, who hit 63 winners over the contest on Rod Laver Arena.
"I managed to respond well in the third and especially in the fourth ... and yes, let's keep it going."
Dimitrov has won only one of his 10 matches against Djokovic and, as the Serbian was quick to point out, has never met him at Melbourne Park, where the former world number one is unbeaten since 2018.
"I know him very well, we are friends, Balkan brothers. May the best player win," said Djokovic.
Djokovic's half of the draw opened for him earlier on Thursday when second seed Casper Ruud was knocked out. That followed Wednesday's exit of top seed Rafa Nadal, who already holds 22 Grand Slam singles titles.
It could turn out that Djokovic's left thigh, again heavily strapped against a hamstring niggle, will be the biggest obstacle to him landing yet another Australian Open title.
The 35-year-old took a medical timeout at 4-4 in the second set to have the strapping changed and fiddled with it at changeovers but otherwise appeared largely unhindered by the injury.
Couacaud also needed treatment when he turned his ankle nastily in the first set as he tried in vain to hold off a break of serve that gave his opponent a 3-1 lead.
The Mauritius-born 27-year-old continued to throw everything at Djokovic and played a brilliant second set, finally coming back from 3-0 down to take the tiebreak 7-5.
Djokovic was again warmly supported by the crowd, the acrimony of his deportation from Australia last year over his stance on vaccinations against COVID-19 apparently forgotten.
One fan attracted his ire in the fourth set, however, after repeatedly making noise while Djokovic was preparing to serve.
"He's drunk out of his mind, he's provoking, he's not here to watch tennis, what are you going to do about it?" he asked the umpire.
Four men in fancy dress were subsequently escorted from the arena and Djokovic was soon crunching a howitzer of a crosscourt backhand winner to bring an end to the contest.