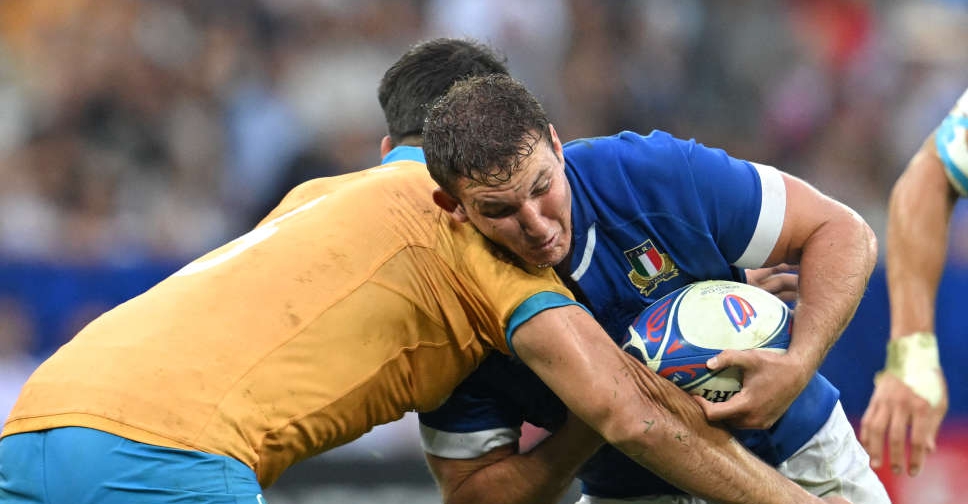 It was all going horribly wrong for Italy as they trailed Uruguay by 10 points at the break in their Rugby World Cup Pool A encounter on Wednesday but a halftime reckoning got them back on track before they powered to a 38-17 victory.
A penalty try and yellow cards for Niccolo Cannone and Danilo Fischetti left Italy chasing the game and the interval brought about a change in their approach.
"We got back into the changing room and we said we screwed it up and we handled it, just embraced the challenge," captain Michele Lamaro said.
"I think we stepped back into the field with confidence, you know, stick together every single moment, win the little battles to win the final war."
Coach Kieran Crowley was disappointed with Italy's poor discipline but praised his defence for holding out.
"You can't afford two players off the field. One of them was just ill-discipline, the second one you could argue but the referee made the decision so no problem," Crowley said.
"But you know, we've got to be better than that because you're going to give away points.
"It was a hell of an effort from them because we only gave away seven points with 13 players so you know that defence was pretty good."
Two wins from their opening two games, along with two bonus points set Italy up nicely for their remaining fixtures with New Zealand and France.
"I think we've got 10 points, if you asked me before to have 10 points after two games I would have taken it," Lamaro said.
"It's unbelievable the energy this group has, the way we are together, the way we live together. It's something unbelievable."
Lamaro, who scored the first try after the break to begin the comeback, also had plenty of praise for Italy's opponents.
"I told all the Uruguayan guys they can be proud of their performance, they put us under a lot of pressure but in these moments, what counts the most is how strong is the team and in the second half we showed that and smashed everything we could.
"This is a real group, we're a family. It was a really tough game."
Italy now have time to recover before they take on New Zealand on Sept. 29. For now, the Azzurri and their 25-year-old captain will enjoy what they have already achieved.
"It's unbelievable. I am young but without all these players, I couldn't do anything. I'm really proud of the boys and I'll share this moment for the rest of my life with them."