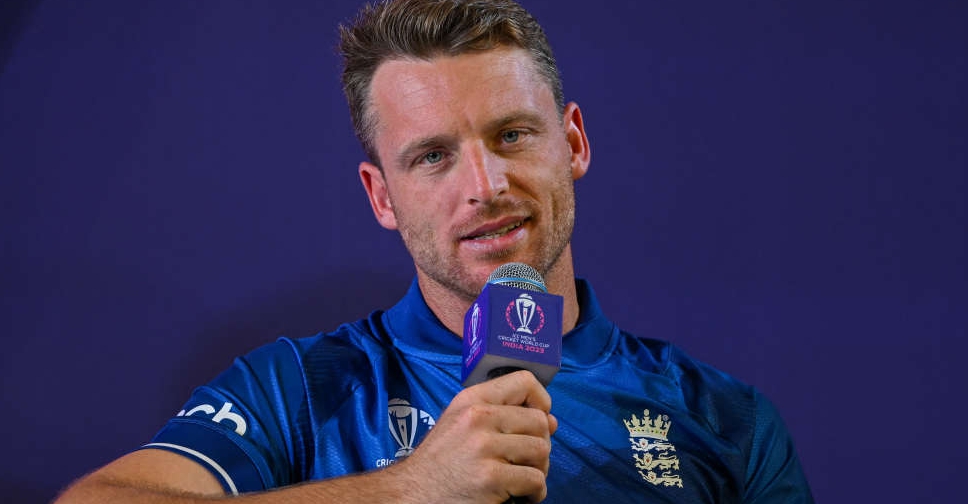 Not even England's World Cup elimination could shake captain Jos Buttler's belief in his team or himself, the 33-year-old said after their title defence wilted with a defeat by Ashes rivals Australia on Saturday night.
Buttler's own form with the bat has been emblematic of his team's struggles in the tournament and England have looked woefully out of form and short of confidence in their first seven matches that include six defeats.
White-ball stalwart Buttler could not manage a single half-century so far in the tournament, while their star-studded batting lineup managed a 200-plus total only once in their last four outings.
"I wouldn't say the belief is shaken, more just the frustration grows and adds," Buttler told reporters.
"These are top quality players. I speak about myself more. I think the belief in my game is as high as it's ever been really, which is why there's so much frustration.
"Coming into the tournament I felt in fantastic form, as good a form as I've been in. So, to be sat here having had the tournament I've had is incredibly frustrating, but it doesn't shake your belief."
The conditions were not totally unfamiliar to most of his teammates, who play for different Indian Premier League (IPL) franchises in the country.
Buttler dismissed the suggestion that the burden of captaincy might be affecting his batting, though he did not spare himself in his frank assessment of their campaign in India.
"No, I wouldn't say the captaincy. It's something I've enjoyed - that responsibility - in T20 cricket and ODI cricket before this tournament.
"I felt like it's brought out a lot of really good things in my batting. So, it's been frustrating... I can't quite put a finger on why I'm not playing to the level I expected (of)myself."
"Of all the things that have happened on this trip, I'd say my own form has been my biggest frustration, because you want to lead from the front as a captain."
England, who face the Netherlands and Pakistan in their remaining matches, are now fighting for a top-eight finish to qualify for the 2025 Champions Trophy in Pakistan.