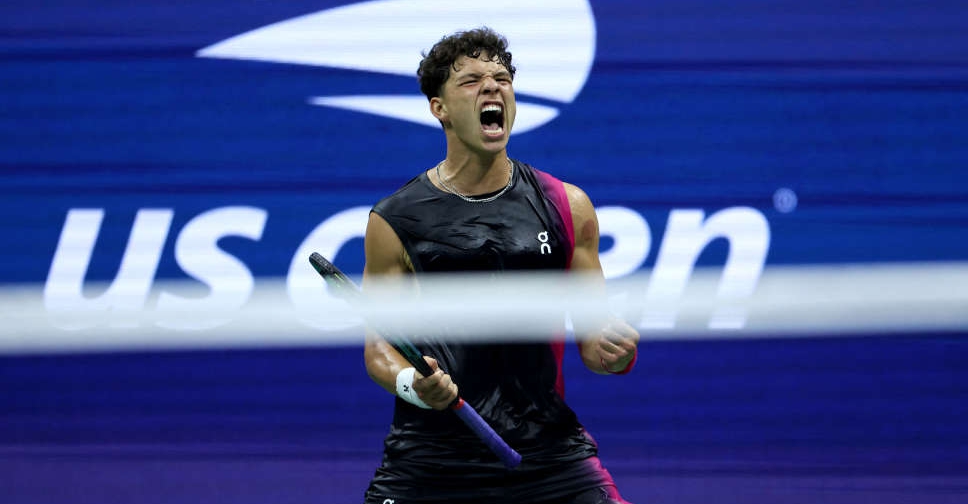 AFP
Big-hitting Ben Shelton blasted his way past Frances Tiafoe 6-2 3-6 7-6(7) 6-2 and into the US Open semi-finals on Tuesday in an all-American match-up that lived up to its blockbuster billing.
With the victory the 20-year-old Shelton becomes the youngest American to reach the US Open men's last four since Michael Chang in 1992, setting up a meeting with one of the greats of the game - 23 times Grand Slam winner Novak Djokovic.
"Feeling like I left it all out here tonight," said the 47th ranked Shelton, who is still searching for his first ATP Tour win. "Emotional battle and thanks all you guys for staying so late."
There are not too many sporting events in New York that create more buzz than an all-American clash under the Arthur Ashe Stadium lights at the business end of the season's final Grand Slam.
The atmosphere during a night session is always electric but it was dialled up a few notches for Tiafoe and Shelton, the contest the first in 15 years to feature two Black American men battling on the world's largest tennis venue.
James Blake and Donald Young met on Ashe in the opening round of the 2008 US Open but the stakes were considerably higher on Tuesday, with the winner moving on to face Djokovic for a place in Sunday's final and the opportunity to end a 20-year US Open title drought.
"He (Djokovic) has won 23 of these (Grand Slams), it doesn't get much better than that," said Shelton. "It's been tough the last two matches, I've been playing Americans but hopefully you guys bring it for me two nights in a row."
The 10th seeded Tiafoe, who electrified the home crowd with a run to the semi-finals last year, had dropped only one set en route to the quarter-finals but it did not take long for Shelton to take a second.
Shelton came out guns blazing, with his groundstrokes struck with such venom they drew gasps from the capacity crowd.
After holding his first two serves Tiafoe had no answers for his opponent's explosive forehand as Shelton claimed five straight games to snatch the opening set.
But there was no panic from Tiafoe as he got to grips with Shelton's big swings, which started to miss the mark.
He would get his first break chances of the match in the sixth game of the second and levelled at a set apiece.
In a wild third set the momentum seemed to swing on every serve with six breaks, three from each player, in the first eight games.
The set would go to a tie-break that was just as unpredictable with Shelton taking back-to-back double faults, including one on set point, before finally winning it 9-7.
There was no mistaking where the momentum was going into the fourth with Shelton hammering a backhand winner down the line that a flat-footed Tiafoe could only watch to clinch the early break.
Another break at 5-2 and Tiafoe's fate was sealed with Shelton holding serve for the win.