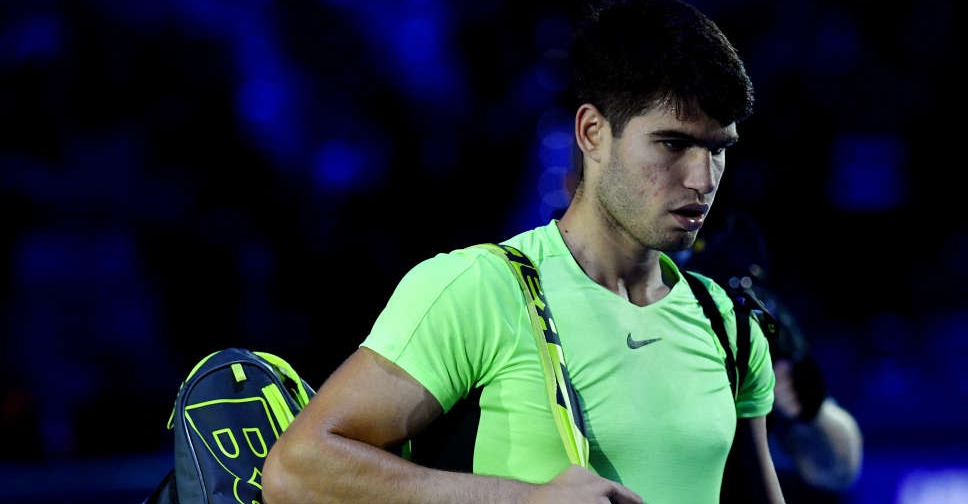 A sluggish Carlos Alcaraz was beaten 6-7(3) 6-3 6-4 by Alexander Zverev on the his debut at the ATP Finals on Monday to continue his end-of-year slump with a third straight defeat.
The 20-year-old world number two, who missed last year's edition of the season-ending championship due to injury, put the blame for his loss squarely on the fast indoor surface at the cavernous Pala Alpitour in Turin.
"I don't know why they put this surface at the end of the year," the Spaniard said in his post-match news conference.
"All the tournaments we have played on hard court are so, so, slow and then we come here to the Masters (Cup) and they put this court so, so fast.
"I don't understand why they've set the speed so high for this tournament when we have never played on a surface like this all year."
Alcaraz is looking to become the youngest ATP Finals champion since Pete Sampras in 1991 and, despite the loss, still has a chance to advance to the knockout stages from the round-robin Red Group.
"This tournament is different for many things, and one of them is that it allows you to go through to the semi-finals despite losing the first match," Alcaraz posted on Instagram.
The Spaniard's next match is on Wednesday against Andrey Rublev, who went down 6-4 6-2 to Daniil Medvedev in his Red Group opener on Monday.
The Russian duo were expected to duke it out in another epic showdown after meeting in the final of the Dubai Open and the quarter-finals of the U.S. Open earlier this year.
Fifth ranked Rublev, however, fell apart after losing the first set and failed to put up much resistance as Medvedev eased to a 7-2 career record in matches against his compatriot.
"I felt really good and was able to get the upper hand fast," Medvedev said.
"I like to play aggressive on my serve, but Rublev plays in such a style that he doesn't give me any other option because I don't have the power of Alcaraz or (Stefanos) Tsitsipas on my forehand."
The action continues on Tuesday with Tsitsipas taking on Holger Rune, and world number one Novak Djokovic facing Jannik Sinner.