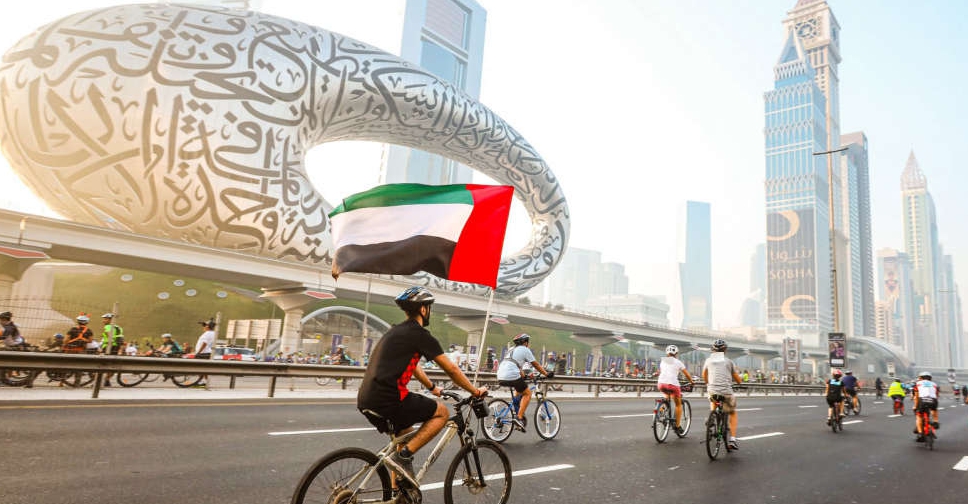 Sheikh Zayed Road and Downtown Dubai are set to turn into a giant cycling track in 2 days for the third edition of Dubai Ride, an iconic non-competitive cycling event that is free for all on November 6, Sunday.
The event is presented by DP World in association with RTA and is one of the most anticipated events of the Dubai Fitness Challenge (DFC) and will welcome all residents and visitors alike.
It will feature two distinct routes that tour some of Dubai's most prominent landmarks.
A 12km route will be open to fitness enthusiasts and more experienced riders who are looking to take on this exciting challenge, with another 4km route open to families and leisure cyclists. Dubai Ride also welcomes people of determination to take part in either route, and those interested in participating should visit the Dubai Ride website for more details.
Dubai Ride's 12km route will take place on Sheikh Zayed Road and will start at 5:00 a.m. from five different starting gates located at the Museum of the Future, Al Satwa, the Coca-Cola Arena, Business Bay, and the Lower Financial Centre Road.
Meanwhile, families with younger children are encouraged to take the 4km route, starting at 5:00 a.m. at Dubai Mall, following Sheikh Mohammed Bin Rashid Boulevard, and around the Dubai Opera and Burj Khalifa.
All riders must be capable of cycling a minimum distance of 4km and bring their own bike, helmet, and refillable water bottle, there will be a number of refill stations on the track thanks to Mai Dubai. No backpacks will be permitted, and speed limits will be set across both routes and closely monitored by ride marshals for the safety and protection of participants.
Riders must register to participate prior to the event at www.dubairide.com and receive an email confirmation to take part in the exclusive cycling routes. Following registration, participants will receive a QR code which they will need to present to collect their bib from one of 3 distribution points in City Centre Deira, Dubai Hills Mall and Ibn Battuta Mall.
Bib collection is open until Saturday during normal mall opening hours, and all participants must collect their bib and take it with them on Sunday to take part in the Dubai Ride.