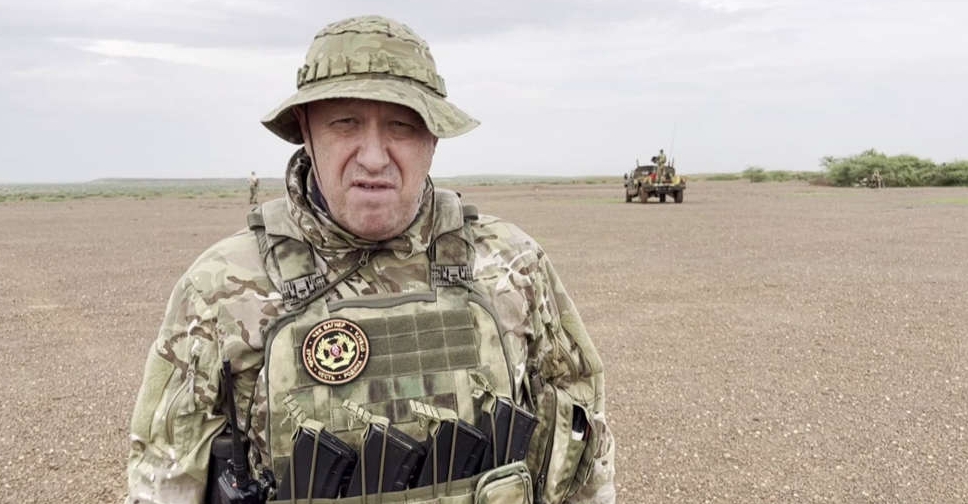 AFP/ HANDOUTTELEGRAM / @ razgruzka_vagnera
Russian mercenary chief Yevgeny Prigozhin was buried privately at a cemetery on the outskirts of St Petersburg on Tuesday, six days after his death in an unexplained plane crash.
The funeral took place away from the glare of the media and in stark contrast to the brazen, self-publicising style with which Prigozhin had fanned his reputation far beyond Russia for ruthlessness and ambition.
"The farewell to Yevgeny Viktorovich took place in a closed format. Those who wish to say goodbye may visit Porokhovskoye cemetery," his press service said in a short post on Telegram.
Pictures published on social media showed Prigozhin's dark granite tombstone surrounded by a sea of flowers, mostly red roses, in the cemetery on the northeast edge of his hometown.
Secrecy had surrounded the funeral arrangements for the Wagner mercenary boss who was killed in a plane crash on August 23, two months to the day since staging a mutiny in the biggest challenge to President Vladimir Putin's rule since he rose to power in 1999.
It meant the event could not be turned into a large-scale public show of support for Prigozhin, a brutal figure who was nevertheless admired by some in Russia for throwing his fighters into the fiercest battles of the war in Ukraine and speaking openly about the shortcomings of the Russian military and its leadership.
In recent days admirers had heaped flowers on makeshift shrines to Prigozhin in Moscow, St Petersburg and elsewhere.
The Kremlin has rejected as an "absolute lie" the suggestion that Putin ordered his death in revenge for the June mutiny. It said earlier on Tuesday that the president would not attend the funeral.
Two other top Wagner figures, four Prigozhin bodyguards and three crew members were also killed when his Embraer Legacy 600 private jet crashed north of Moscow.
It is still unclear what caused the plane to crash but villagers near the scene told Reuters they heard a bang and then saw the jet plummet to the ground.