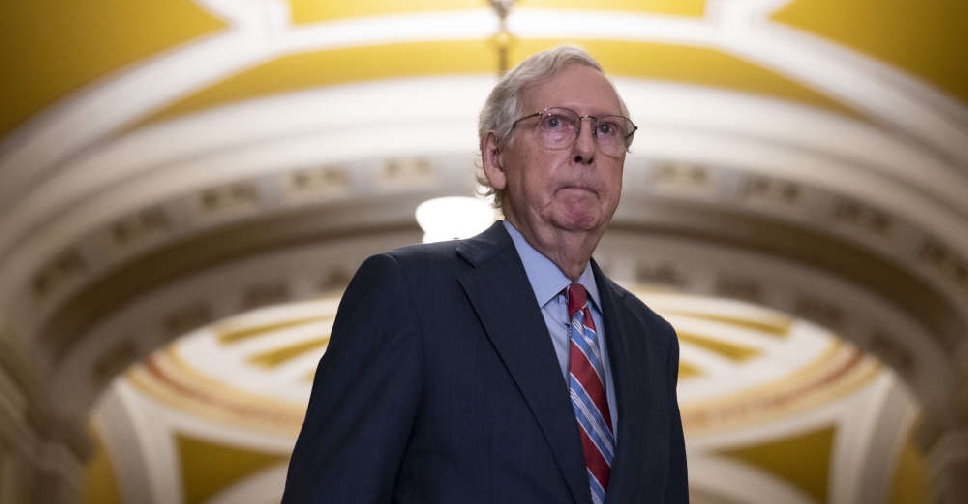 AFP
Top US Senate Republican Mitch McConnell froze up for more than 30 seconds on Wednesday during a public appearance before he was escorted away, the second such incident in little more than a month.
A clip from an NBC News affiliate showed McConnell, 81, responding to questions from reporters after an event with the Northern Kentucky Chamber of Commerce in Covington when he froze up, staring into space and not responding to reporters and others nearby.
The incident raised fresh questions among Republican and Democratic members of Congress about some of their ageing colleagues.
After being approached by a second person, McConnell resumed speaking but needed reporters' questions repeated to him and only answered two more questions. The longest-serving Senate party leader in history, McConnell's voice was shaky and quiet.
He said Kentucky Attorney General Daniel Cameron, a Republican, was "far and away the best candidate" for governor, and declined to say whether he would support former President Donald Trump as the Republican nominee for president before walking away with a staffer.
A McConnell aide said the senator would be consulting with a physician prior to his next public event. The Senate is due to reconvene on Tuesday after a five-week-long summer recess.
"Leader McConnell felt momentarily lightheaded and paused during his press conference today," McConnell's spokesperson said.
The incident was similar to one that took place in the US Capitol on July 26, when McConnell froze in the middle of a press conference and had to be led away, returning several minutes later to finish taking questions.
After that incident, a McConnell aide said the senator had felt light-headed. Two days later, a spokesperson said that McConnell planned to remain in his leadership post through the 2024 election.
McConnell froze on Wednesday after being asked whether he intended to run again in 2026, when his six-year term is up.