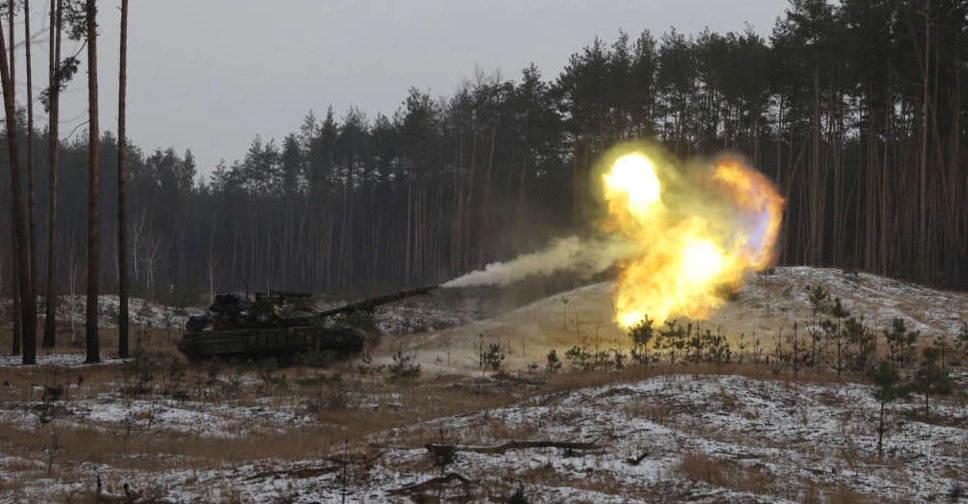 Ukraine said its troops were holding out against pro-Moscow forces in the eastern salt mining town of Soledar as more than 500 civilians including children were trapped there.
In a video address, Ukrainian President Volodymyr Zelenskiy on Thursday thanked two units in Soledar that he said "are holding their positions and inflicting significant losses on the enemy". He did not give more details.
Zelenskiy said he and senior Ukrainian commanders analysed the need for reinforcements in Soledar and nearby towns in the eastern industrial area known as the Donbas and next steps for the coming days.
Russia's ultra-nationalist contract militia Wagner Group, run by an ally of President Vladimir Putin, claimed to have taken Soledar after intense fighting that it said left the town strewn with Ukrainian dead.
Moscow however, has held off officially proclaiming a victory, which would be its first significant gain in six months.
"At the moment, there are still some small pockets of resistance in Soledar," Andrei Bayevsky, a Russian-installed local politician, said in an online broadcast.
Reuters was unable to independently verify the situation.
Donetsk governor Pavlo Kyrylenko told Ukrainian state TV that 559 civilians remained in Soledar, including 15 children, and could not be evacuated from the community that had a pre-war population of about 10,000.
DESERTED STREETS
Drone footage obtained by Reuters of a medical evacuation from Soledar by Ukrainian soldiers showed deserted streets where just a few ruined buildings remained standing, amid blasted trees and smouldering rubble.
A 24-year-old Ukrainian soldier, positioned outside Soledar, said: "The situation is difficult but stable. We're holding back the enemy ... we're fighting back."
US officials questioned the importance of a Russian victory in Soledar even if that were true.
Soledar lies less than 10 km northeast of the city of Bakhmut where fighting has raged for months in one of the war's bloodiest battles - dubbed the "meat grinder".
"Even if both Bakhmut and Soledar fall to the Russians, it's not going to have a strategic impact on the war itself," US National Security Council spokesman John Kirby told reporters at the White House, "and it certainly isn't going to stop the Ukrainians or slow them down."
Oleksandr Kovalenko, an analyst at Ukraine's Information Resistance Military-political group, said the battle for Soledar had eased the pressure on the more strategic town of Bakhmut.
"Soledar has already fulfilled its main role -- drawing off a large amount of Russian resources and destroying them." he said on the nv.ua media website.
Kovalenko said Soledar's cavernous salt mines could prove lucrative for Russia, if its forces succeeded in taking the town.
He said Ukrainian forces controlled the southwest and centre of Soledar, but warned that "maintaining that control comes at a cost of human lives".