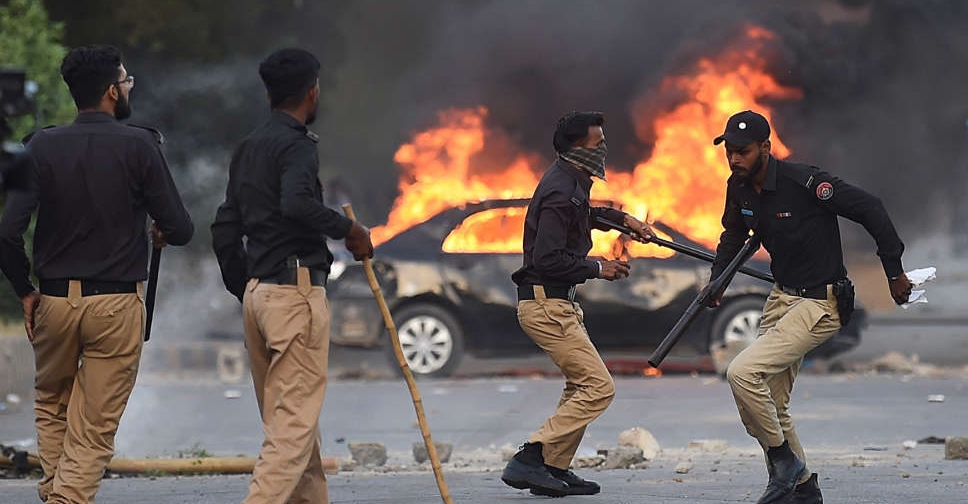 AFP
Supporters of Imran Khan were planning to march to Islamabad on Wednesday where the former Pakistan prime minister is in custody in a corruption case, raising fears of more clashes with security forces.
Khan was arrested from the Islamabad High Court on Tuesday by Pakistan's anti-corruption agency. Police said a court hearing would take place at the police guest house where he is being held.
The arrest came a day after the country's powerful military rebuked Khan for repeatedly accusing a senior military officer of trying to engineer his assassination and the former armed forces chief of being behind his removal from power last year.
In response, his Pakistan Tehreek-e-Insaf party called for a "shut down" across the country, with Khan's supporters clashing with police in many cities and storming military buildings in Lahore and Rawalpindi, according to witnesses and videos shared by his party.
Supporters in northwestern Khyber Pakhtunkhwa province were asked to gather early on Wednesday in Swabi city to leave for Islamabad as part of a convoy, the party wrote on Twitter.
Party leaders asked workers to continue protests but not take the "law in their hands", according to messages shared on Twitter on Wednesday.
A police spokesman told Reuters on Wednesday that Khan will not be brought to court and his scheduled hearing will take place at the location where he is being held under custody.